This course includes the following resources:
Physical course manual: three-ring binder with tabbed sections, workbook exercises, exam preparation handbook, and practice exam. Manual is shipped within 24-48 hour of purchase.

Digital course recordings and materials are pre-loaded and accessible for instant access in a password-protected PMI Portal Account. Login information is provided with purchase confirmation. The course includes twelve 90-minute instructor-led recordings and bonus medical terminology course. Additional resources provided with this course include CMC handbook, coding exercises, coding exercises, answer key, practice exam, testing tips, and course updates, if applicable.

The proctored certification exam is also included with purchase. Instructions on how to schedule your exam with PMI's exam coordinator are provided with the course materials.
The following resources are required for use during this course and exam, and must be purchased separately:
Current year editions: CPT®, HCPCS, ICD-10-CM, a medical dictionary (any year) is also required. See the "Requirements" tab for more information about these reference materials.
Maxine Collins

MBA, CPA, CMC, CMIS, CMOM
---
Maxine has more than thirty years of experience in medical practice management, adult education and general business. She has taught courses at various levels, including teaching business communications and accounting at Midwestern State University in Texas. Maxine has extensive experience teaching administrative and clinical personnel essential medical office skills such as medical terminology, coding, reimbursement, OSHA, and HIPAA compliance. She is adept at personnel management, government rules and regulations, accounting and budgeting. Additionally, her experience with practice marketing and development make her a knowledgeable and much sought-after practice management resource.
Maxine has served as an administrator of a multi-specialty clinic, where she was responsible for all clinic operations including medical records, billing and collections, OSHA, HIPAA and Medicare compliance, and all accounting operations. She also has experience in medical practice consulting, and has successfully launched multiple practices.
Maxine holds a MBA in business from Midwestern State University. She is also a Certified Public Accountant and holds three PMI credentials.
The Certified Medical Coder is a leading certification for medical coding professionals that work with outpatient claims. The training program prepares candidates with advanced knowledge of the reimbursement cycle from patient encounter to claim. These skills are imperative for proper claim submission and accurate payment for services rendered.
For employers, auditors, and business associates, CMC signifies an ongoing commitment to continued professional development. Those who continue to expand their professional knowledge will have an edge in today's ever-changing healthcare climate.
Benefits of becoming/hiring a Certified Medical Coder:
A CMC protects the practice's financial health by decreasing claim denials and improving billing accuracy and compliance with current guidelines

A CMC does not

rely on

EHR presets, web searches or coding cheat sheets for coding assignments, which can cause repeat problems and trigger an audit

A CMC communicates with confidence with physicians, third-party payers, patients, and business associates, which promotes advancement into chart auditing and supervisory roles.
The Certified Medical Coder (CMC) is designed for experienced coders that have a minimum of one year of work experience as an outpatient medical coder. All candidates are encouraged to complete PMI's free online Medical Coding Assessment to test their base knowledge and identify areas of deficiency where training may be beneficial in advance of the course. Candidates with less experience or wishing to brush up on their skills may consider completing the Principles of Coding before beginning the more intensive certification course.
Fundamental Training Recommendation
Inexperienced coders and those new to the field will benefit from fundamental training prior to attempting the Principles of Coding course referenced in the paragraph above. The Medical Coding Basics Bundle is a four-part series that covers the fundamentals of coding guidelines as well as an introduction to CPT, ICD-10-CM, and E/M coding.
Required Self-Supplied Materials
Students must have access to current editions of CPT®, HCPCS, ICD-10-CM, and a medical dictionary throughout the course and on the exam day. These coding reference materials are updated annually. The ICD-10-CM code set manual is valid through September 30 of the calendar year noted on the cover. The codes for the subsequent year go into effect on October 1 each year. CPT and HCPCS code sets are effective for the calendar year period beginning January 1 and ending December 31. PMI certification course students should utilize coding resources that are current at the time of their participation in the course and exam. Candidates that schedule an exam appointment for the next calendar year should bring coding books that are current on the date of their exam.
Practice Management Institute (PMI) used current AMA published versions of the three coding manuals in the preparation of this course and exam. While the usage of these materials does not in any way indicate the endorsement of a particular brand by Practice Management Institute, these resources are recommended to minimize potential discrepancies in coding information provided. Students should also be aware that the AMA publishes the only CPT® codebook with the official CPT guidelines. PMI does not sell medical coding books, but they are widely available for purchase or lease through a variety of nationwide publishers and retailers.
Exam
Earning CMC certification requires a passing score of 70 percent or better on the written exam. All exams are proctored live in testing centers across the country. Candidates have up to six hours to review questions and coding books and write in their answers based on the criteria given. Codes selected must designate the highest degree of specificity based on the documentation provided using current coding reference books. Exams are hand-graded and verified twice. In an age of digitized grading systems designed to simplify the grading process, PMI stands by its resolute exam standards as the most accurate measure of a CMC candidate's coding ability.
Certified Professional Standards of Excellence
Practice Management Institute certified professionals are required to uphold high professional standards, established by the Practice Management Institute Advisory Board for Certification Programming. Ethics requirements include adherence to legal guidelines according to governmental and third-party payer organizations and contracts.
Maintaining the CMC Certification
Medical office professionals, particularly those working in reimbursement roles, must stay current on updates and changes each year. Keeping the CMC certification active requires an ongoing commitment to continuing education. Twelve hours of continuing education are required each year to maintain active certification status. For information about renewing the CMC certification, visit the "Certification Renewal" section of our website.
The CMC online preparatory course consists of 29 hours of high-level coding instruction and practice exercises led by a PMI-approved Instructor.
Course Outline:
Medical Terminology

Makeup and pronunciation of medical terms/words

Key review of the human body systems, illustrations, and review of anatomic position and directional terms

Root words, prefixes, suffixes, and supplemental terms

Combined forms associated with medical conditions

Definitions for common medical abbreviations

Analysis of physician orders and narratives
ICD-10-CM Coding
Instruction on the guidelines, organization, and groupings of ICD-10-CM

Accurate translation of medical terminology for diseases into codes

Designation of symbols, punctuations, abbreviations, keywords, unspecified codes, and other coding conventions

ICD-10-CM subcategories, classifications, and extensions

Outline of the complete coding and reimbursement equation

Primary vs. secondary code selection

Diagnostic coding guidelines such as laterality, sequelae, etc.

Differentiate between signs/symptoms and ill-defined conditions and a diagnosis

Correct rules and guidelines for assigning codes for neoplasms, adverse effects, pregnancy, childbirth, wounds, burns, injuries, HIV/AIDS, etc.

Unsubstantiated and borderline diagnoses

Application of ICD-10 coding conventions

How to determine the accurate diagnostic code order

Proper use of tables

Problem set coding exercises for hands-on comprehension
Procedural Coding - CPT® and HCPCS
Key elements of physician documentation that drive the assignment of CPT codes

Accurate code assignment through the application of coding guidelines

HCPCS/CPT coding process and steps

Format and conventions used in the HCPCS/CPT coding manuals

Global and unbundled procedures, and their impact on coding in CPT

Identify unlisted procedures and how to bill them

Modifier usage for appropriate reimbursement and efficient claims processing

Evaluation and management service types

E/M guidelines and levels of service

Medical record documentation as related to the application of E/M coding

Bundled services guidelines for surgery coding

New versus established patient guidelines

Surgery coding guidelines

Hands-on exercises coding common procedures and services provided by physicians
Ancillary Services & Advanced Coding
Maternity and delivery services

Types of radiology services

Technical and professional component distinction

Billing supervision and interpretation (S&I) services

Laboratory procedure types

Billing for qualitative detection versus quantitative detection

Billing laboratory panel tests

Types of pathology services

Coding services in the medicine section

Billing for the administration of vaccines and immunizations

Types of dialysis

Guidelines used to assign ophthalmologic examinations

Advanced coding problem set exercises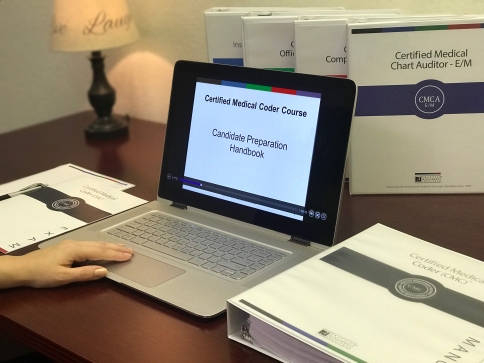 Live Class
Attend instructor-led classroom sessions, hosted in select hospitals, healthcare organizations, medical societies and colleges across the U.S. The Live Class format includes a full course manual with workbook exercises, practice exam, and a six-hour proctored certification exam. Access to a medical terminology online course is also available.
Live Webinar
Participate in this course remotely via live webinar. Offered twice annually, this format includes a series of twelve 90-minute instructor-led webinar sessions*, a full course manual with workbook exercises, a practice exam (free shipping included in purchase), and a six-hour proctored certification exam. Access to a medical terminology online course is also available.
*Attendance at live sessions is optional; registered students can access the recordings online for up to six months after the original recording date.
Online Self-Paced
Start the Certified Medical Coder online course anytime*. This format includes access to twelve instructor-led 90-minute recorded sessions, a full course manual with workbook exercises, medical terminology course, a practice exam, and timed, six-hour proctored certification exam.
*Registered students can access the recordings online for up to six months after the original recording date.
Exam Challenge
Experienced coding professionals can challenge the exam. A passing score of 70% or better is required to earn the CMC certification. If the candidate does not achieve a passing grade on the first attempt, he/she may re-test for an additional fee.
PMI's Exam Coordinator schedules the exam in a testing center near the candidate's location. If the candidate does not achieve a passing grade on the first attempt, he/she may re-test for an additional fee.
Students will need self-supplied current editions of CPT®, HCPCS, ICD-10-CM, and a medical dictionary throughout the course and on the exam day. See the "Requirements" section for more information about these reference materials.
Request Exam
Experienced professionals may choose to challenge the Certified Medical Office Manager certification exam for a $299 fee. An Exam Request Form must be submitted online before the exam process can begin.
For more than 35 years, PMI's training has been recognized in health care systems, hospitals, medical societies, physician organizations, and learning institutions across the country. There are other coding certifications offered through organizations such as AHIMA and the AAPC. Some certifying bodies advertise their coding certification as the only recognized option, but the truth is that no government body recognizes or endorses a particular medical coding certification program over another. The training for each of these programs is very similar in terms of industry-standard guidelines and competency requirements for outpatient coders.
In 2004, the Centers for Medicare and Medicaid Services (CMS) named Practice Management Institute along with the American Health Information Management Association (AHIMA), and the American Academy of Professional Coders (AAPC) as organizations that provide advanced coding training for CMS-employed Provider Relations Research Specialists. This was in reference to the Medicare Modernization Act Provider Customer Service Program advanced training requirements needed to address complex provider questions pertaining to coverage, coding, and payment policies.1
The U.S. Department of Labor (DOL) lists the CMC in its online career training resource.2 Recognition by CMS, DOL, medical societies, learning institutions, and healthcare organizations across the country underlines the recognition of this certification as a leading provider of certification for medical office coding staff.
1. The Centers for Medicare and Medicaid Services transmittal: https://www.cms.gov/Regulations-and-Guidance/Guidance/Transmittals/Downloads/R113OTN.pdf CMS Manual System, Pub. 100-20, Transmittal 113, September 10, 2014. SUBJECT: Implementation of § 921 of the Medicare Modernization Act (MMA) – Provider Customer Service Program, page 8, bottom paragraph
2. U.S. Department of Labor, Employment and Training Administration recognition of the CMC: http://www.careerinfonet.org/certifications_new/default.aspx, type Certified Medical Coder in the "Find a Certification" box
Periodical References
Use certified medical coders to help navigate reimbursement regulation changes, PMI says, Kelly Gooch, Beckers Hospital CFO Report 2017 Aug 23
https://www.beckershospitalreview.com/finance/use-certified-medical-coders-to-help-navigate-reimbursement-regulation-changes-pmi-says.html
Easy tips for physicians to reduce billing errors, Keith Loria, Medical Economics, 2017 Aug 2
http://www.medicaleconomics.com/medical-economics/news/easy-tips-physicians-reduce-billing-errors
The Value of a Coding Education, John Rowe, MD, Blake Fagan, MD, David Mouw, MD, Dottie King and Kelly Christianson, Fam Pract Manag. 2005 Mar;12(3):20-22 http://www.aafp.org/fpm/20050300/20thev.html