Home > Curriculum > ICD-10-CM Coding Workshop
ICD-10-CM Coding Workshop
Analysis, crosswalks, and hands-on practice
5 Reasons to Attend
Explanation of new code characteristics and guidelines
Guidance on the implementation process
Documentation requirements and crosswalk examples from ICD-9 to 10
Overview of coding guidelines and examples by chapter
Hands-on exercises to apply new principles
This course addresses specific requirements for clinicians and medical office professionals. Instruction includes an overview of implementation steps along with code characteristics and guidelines. Participants will review crosswalk examples and complete practice coding exercises to apply new skills.
Program Highlights:
Guidance on implementation and compliance timeline
A review of key skills required to work with the new system
Extensive review of established coding guidelines for ICD-10-CM
Characteristics of new expanded codes, level of detail, laterality, external cause codes, and much more
Documentation requirements and reporting hierarchy for conditions and diagnoses
Coding structure differences, including use of extensions
Status of supplementary classifications and additional documentation requirements
Medical terminology basic review with emphasis on anatomy
Receive a list of Web resources for ICD-10 guidance
Review CMS' General Equivalence Mapping System to help analyze changes between the two systems
Who Should Attend
This course is designed for clinicians, coding and billing professionals, and anyone seeking a better understanding of ICD-10. Complete this class now to move on to intermediate and advanced-level ICD-10 training.
Prerequisites
This is a basic-level course. Content assumes some knowledge of diagnostic coding and reimbursement.
What to Bring
Students must bring an ICD-10-CM coding manual to this class.
Continuing Education Units (CEUs)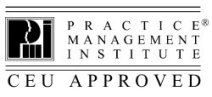 Earn 6 PMI CEUs for attendance at this program. Practice Management Institute grants CEUs for its certified professionals based on total number of instructional hours (1 CEU per hour of classroom instruction). CEUs may be applied to annual recertification requirements, as directed in the certification renewal requirements for your credential(s).
If you are seeking CEU credits for other certifications or organizations, please contact your organization for pre-approval and credit guidelines. A certificate of attendance will be provided.
Program Schedule
---
"With the significant changes occurring with ICD-10, we felt that it was extremely important to inform and educate our medical staff regarding how ICD-10 impacts them and how best to prepare for its implementation. We looked to Practice Management Institute and MedChi for a CME program for our physicians because of PMI's leadership in practice management programs for medical professionals. Physicians and other medical personnel who attended this program were very pleased with both the quality and content of PMI's CME offering."
Dennis Nordquest
Manager, Physician Relations
Akron General Health System
"Very informative. Not as scary as I thought."
Anna Hawley, Akron, OH
"Very helpful, knowledgeable and responsive to our questions."
Sharalee Cott, Baltimore, MD
"I really enjoyed the class. Coding different scenarios was a good experience. I thought this would be hard but it seems to be easier to code. All coders need to take this class."
Tasha Jennings, Greenville, SC
"Very positive and upbeat about subject matter."
Harriet Ragazzino, Madison Heights, WI