Transform the Front Desk Staff – Version 2.0
Instructor:
Lisa Maciejewski-West, CMC, CMIS, CMOM, MCS-P
Schedule:
Two instructor-led, 90-minute live online training sessions: March 22 and 29, 12 noon to 1:30 p.m. Central (10 a.m. Pacific, 1 p.m. Eastern).
NOTE: Live session attendance is optional. See the materials section below for more information. Sessions are recorded and available in PMI's Online Training Center 2-4 days after the last recording date. Registrants receive access to the session recordings and digital course manual for 6 months.
Online Course Fee:
$199 per person*
Target Audience:
This training is designed for medical office professionals working in a reimbursement role.
Materials:
Registration includes a digital course manual
CEUs:
PMI certified professionals earn 3 CEUs, emailed with certificate of completion
*This Online Course is not included as part of the Total Access webinar subscription package.
This course will explain your rights and responsibilities when appealing claim denials. Receive tools and expert guidance on how to second-guess denials and recoup dollars rightfully due to the provider. The instructor will address questions head-on and provide new insight and tools to help billing staff successfully handle all your appeals, refunds and recoupment requests.
Understand the reasons claims are delayed/denied
Efficient methods for combating denials
Modifiers, bundling, downcoding, and other situations that cause a claim to be rejected
Appealing bundled or downcoded claims
Working within claim guidelines to avoid further delays
Write results-oriented appeal letters
Effectively respond to inappropriate recoupments
Handling payment inconsistencies
State and Federal Guidelines for refunds/recoupments
Guidance on Prompt-Pay laws
Troubleshooting repeat denials
Accessing legal guidance if needed
Continuing Education Units (CEUs)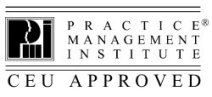 Earn 3 PMI CEUs for attendance at this program. Practice Management Institute grants CEUs for its certified professionals based on total number of instructional hours (1 CEU per hour of classroom instruction). CEUs may be applied to annual recertification requirements, as directed in the certification renewal requirements for your credential(s).
If you are seeking CEU credits for other certifications or organizations, please contact your organization for pre-approval and credit guidelines. A certificate of attendance will be provided.


About the Presenter
Lisa has been involved in the medical billing, management and consulting field since 1982. In 2006, she founded Gold Star Medical Business Services, an award-winning company that provides remote billing services for physicians in small to medium-sized individual and group practices. Prior to starting Gold Star Medical, she worked for one of the largest Practice Management consulting firms in the country.
Lisa has consulted with hundreds of doctors as a practice management coach and has spoken at hundreds of seminars throughout the United States, both as a teacher and motivational speaker. She is PMI's Director of Business Development for the West Central Texas region, and an adjunct instructor with the Angelo State University Small Business Development Center, and teaches a variety of business classes to new and prospective business owners.