Effective Denial Management and Rejection Prevention
Instructor:
Sharon Turner MS, CMC, CMIS, CHI, CMAA, CBCS, CEHRS
Schedule:
Two instructor-led, 90-minute live online training sessions: June 23 and 30, 12 noon to 1:30 p.m. Central (10 a.m. Pacific, 1 p.m. Eastern).
NOTE: Live session attendance is optional. See the materials section below for more information. Sessions are recorded and available in PMI's Online Training Center 2-4 days after the last recording date. Registrants receive access to the session recordings and digital course manual for 6 months.
Online Course Fee:
$199 per person*
Target Audience:
This class is ideal for billing and claims processors, physicians, consultants and anyone seeking solutions and for claim rejections and denials.
Materials:
Registration includes a digital course manual
CEUs:
PMI certified professionals earn 3 CEUs, emailed with certificate of completion
*This Online Course is not included as part of the Total Access webinar subscription package.
CMS audits are on the rise! Protect your practice's bottom line with specialized training for your billing staff. Stand up to denials and win!
Reduce the risk of claim rejection and/or denial due to lack of specificity or erroneous billing
Learn strategies for educating providers on the necessary documentation requirements that support medical necessity
Distinguish the differences between a rejection and a denial and implement effective strategies for both
Understand each step of a proper denial tracking system
Eliminate exposure for lost revenue and audits by government and private payers due to inappropriate billing Whether the issue is inadequate payment, denial or rejection, participants will return to the office well-equipped to handle the toughest claims management issues.
When correctly-submitted claims are inappropriately reduced, delayed or denied, it is imperative to appeal claims in a timely manner with as much supporting documentation as possible. This class will explain your rights and responsibilities when appealing claim denials and instruct on best practices for preventing claims rejections and managing denials.
Class Highlights:
Review Medicare rejection code examples
Understand the top reasons claims are delayed/denied
Learn protocols to eliminate rejections
Identify efficient methods for denial resolution
Improve documentation strategies for accurate diagnosis coding
Modifiers, bundling, downcoding, and other situations that cause a claim to be rejected
Working within claim guidelines to avoid further delays
Handling payment inconsistencies
State and Federal Guidelines for refunds/recoupments
Guidance on Prompt-Pay laws
Troubleshooting repeat denials
Accessing legal guidance if needed
Who Should Attend
Participants will receive tools and expert guidance on how to second-guess denials and recoup dollars rightfully due to the provider. The instructor will address questions head-on and provide new insight and tools to help billing staff successfully manage all your claims rejections and denials.
Prerequisites
The content covered in this course assumes basic to intermediate knowledge of outpatient billing and carrier reimbursement.
Continuing Education Units (CEUs)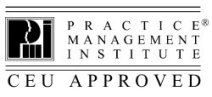 Earn 3 PMI CEUs for attendance at this program. Practice Management Institute grants CEUs for its certified professionals based on total number of instructional hours (1 CEU per hour of classroom instruction). CEUs may be applied to annual recertification requirements, as directed in the certification renewal requirements for your credential(s).
If you are seeking CEU credits for other certifications or organizations, please contact your organization for pre-approval and credit guidelines. A certificate of attendance will be provided.

About the Presenter
Sharon Turner is an enthusiastic educator who has taught allied healthcare courses at Brookhaven, Collin, and Vista Colleges. She has received awards and recognition for outstanding achievement in teaching, leadership and community involvement. She is effective in developing lesson plans, providing quality instruction, and promoting a positive learning environment for her students. She also has more than 12 years of experience as a Certified Medical Coder for OB/GYN, Anesthesia, Family Practice Medicine, Dermatology, Vein and Vascular, and Orthopedics Surgery specialties. She helped implement a new EHR system and successfully increased first pass on clean claims paid by 88 percent within 90 days of implementation. Sharon is a doctorate student at Abilene Christian University majoring in Organizational Leadership in Adult Education. She has a Master of Science and a bachelor's degree in Workplace Learning Performance in Applied Technologies from UNT. She currently serves on the Digital Faculty Consultant team at McGraw-Hill Education.