Transform the Front Desk Staff – Version 2.0
Instructor:
Maxine Inman Collins, MBA, CPA, CMC, CMIS, CMOM
Schedule:
Two instructor-led, 90-minute live online training sessions: April 5 and 12, 12 noon to 1:30 p.m. Central (10 a.m. Pacific, 1 p.m. Eastern).
NOTE: Live session attendance is optional. See the materials section below for more information. Sessions are recorded and available in PMI's Online Training Center 2-4 days after the last recording date. Registrants receive access to the session recordings and digital course manual for 6 months.
Online Course Fee:
$199 per person*
Target Audience:
This training is designed for outpatient medical coding professionals.
Materials:
Registration includes a digital course manual
CEUs:
PMI certified professionals earn 3 CEUs, emailed with certificate of completion
*This Online Course is not included as part of the Total Access webinar subscription package.
E/M lays the groundwork for the reimbursement process. However, documentation deficiencies and improper level of service selection can be a tremendous liability. Improve confidence working with provider documentation and E/M codes and ensuring they meet the guidelines for accurate reimbursement. Learn an internal chart documentation training system designed to help staff proactively identify and correct potential problems on an ongoing basis. Receive a comprehensive explanation of documentation guidelines and identification of accurate, adequate and clinically useful information.
Relate accurate code selection to proper reimbursement
Review sample chart notes
Step-by-step explanation of documentation guidelines
The down side of using EMR templates for E/M code selection
Select proper E/M code for location and type of service provided to the patient
Explanation of proper add-on code usage
Look at appropriate codes for work performed by ancillary providers
Instruction of diagnosis codes indicating level of necessity
E/M coding grids to aid in accurate level of service selection
Documentation necessary in the medical record
Correct use of Level II CPT® modifiers
How documentation is used to record the complexity of medical decision making
The role of history and exam in medical decision-making
Review examples of chart notes to identify potential problem areas
Continuing Education Units (CEUs)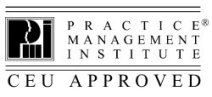 Earn 3 PMI CEUs for attendance at this program. Practice Management Institute grants CEUs for its certified professionals based on total number of instructional hours (1 CEU per hour of classroom instruction). CEUs may be applied to annual recertification requirements, as directed in the certification renewal requirements for your credential(s).
If you are seeking CEU credits for other certifications or organizations, please contact your organization for pre-approval and credit guidelines. A certificate of attendance will be provided.


About the Presenter
Maxine has more than 30 years of experience in medical practice management, adult education, and general business. She is the former administrator for a multi-specialty clinic, and has taught numerous practice management, accounting and business communications courses at various levels at Midwestern State University in Texas. She has extensive experience as a practice consultant and has taught both administrative and clinical personnel.