Introduction to Medical Coding
| | |
| --- | --- |
| Instructor: | Thomas Alan Stevens, CMC, CMIS, CMOM, CCS-P, CPC |
| Schedule: | No dates scheduled |
| Fee: | N/A |
| Target Audience: | Course content covers basic coding principles for medical office professionals responsible for accurate coding and billing in an outpatient healthcare setting. |
| Materials: | Participants receive a digital course manual. Set meetings@meetings.readytalk.com as a Safe Sender in your email server. |
| CEUs: | PMI certified professionals will earn 3 CEUs. A certificate is sent via email upon completion of the course. |
Recorded sessions are available as a Self-paced Webinar Course in the Online Training Center approximately four days after the last recording date. Registrants for this webinar course will receive access to the session recordings and digital course manual for up to one year.
Program Description
Medical coders are charged with the responsibility of selecting correct codes for optimal reimbursement while protecting the medical practice from violations due to improper billing. This program provides an introduction into ICD-10-CM, CPT® and HCPCS Level II coding systems and explores essential coding concepts that directly impact reimbursement for healthcare services provided in an outpatient setting.
Who Should Attend?
Those interested in pursuing a career as a medical coder
Novice outpatient coders
Managers, clinical and administrative staff seeking an overall understanding of the coder's role and responsibilities in the healthcare setting.
Program Agenda:
Overview of the coding process
The role of the medical outpatient coder
Required training, skills, and abilities: analytical, clinical language, adherence to guidelines
Ethics, professionalism, and responsibilities
ICD-10-CM, CPT® and HCPCS coding references - what they are and how to use them
Explore symbols, punctuation and abbreviations
Explanation of add on codes, modifiers, bundling and unbundling
Coding to the highest degree of specificity
Accurate translation of documentation that supports proper code selection
How important is a coding certification?
Which certifications are recognized/required as examples of coding expertise by CMS for their Provider Relations Research Specialists (PRRS) Contractors?
What does auditing have to do with it? When, Why, Where and How is coding audited?
Continuing Education Units (CEUs)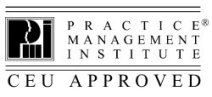 Earn 3 PMI CEUs for attendance at this program. Practice Management Institute grants CEUs for its certified professionals based on total number of instructional hours (1 CEU per hour of classroom instruction). CEUs may be applied to annual recertification requirements, as directed in the certification renewal requirements for your credential(s).
If you are seeking CEU credits for other certifications or organizations, please contact your organization for pre-approval and credit guidelines. A certificate of attendance will be provided.

About the Presenter
Tom has more than 20 years of experience in medical practice management, coding, revenue recovery, compliance, and regulatory changes. He also has a long history teaching proper coding guidelines to both clinical and non-clinical staff. He has served as a consultant and coding analyst where he has facilitated proper documentation flow and been responsible for medical record compliance. He has hired, trained, and supervised coders for a variety of specialties including cardiology, pulmonology, nephrology, psychiatry, family practice, oncology and neurology. His in-depth experience has helped the medical practices with which he has been associated increase their overall profitability and improve documentation, coding, billing and collection protocols and accuracy.
Tom's warm and enthusiastic teaching style exhibits his genuine desire to engage his audience as he shares best practices from his collective experience and that of the PMI faculty. The ever-evolving face of medicine and the requirements placed on medical practices mandates that medical professionals up their game in acquiring and updating knowledge and strategies for effective medical practice management. Tom is a master at helping you do this.