| | |
| --- | --- |
| Instructor: | Heidi Kocher, JD, MBA, CHC |
| Schedule: | Attend six 1-hour sessions: September 18, 25, October 2, 16, 23, and 30 from 12 noon to 1 p.m. Central Time (10 a.m. Pacific, 1 p.m. Eastern). All sessions will be recorded and accessible to webinar registrants in PMI's Online Training Center for 6 months following the conclusion of the live course.* |
| Fee: | N/A |
| CEUs: | PMI certified professionals will earn 6 CEUs. A certificate is sent via email upon completion of the course. |
*Multisession webinar courses are not included with Total Access subscription.
One of the most difficult aspects of running any business, including a medical practice, is dealing masterfully with employee issues. People are sources of risk. If you make an improper hiring decision or mishandle a sensitive situation, the practice potentially opens itself up to negative consequences. The many laws that affect employers often don't differentiate between large and small employers. Who has time to learn about all the new legal pitfalls out there when you are trying to get claims paid for the services provided, make payroll and keep the lights on?
Take the "risk" out of HR risk management. Join healthcare attorney Heidi Kocher for this comprehensive review of current legal concerns impacting healthcare employers. This six session program is designed to inform practice managers of the various laws that apply to managing employees and provide practical tips for managing HR related risks.
Topics Covered:
Creating an appropriate job description and defining the relationship
Advertising and interviewing applicants, and making the hiring decision
On-boarding a new employee once the hiring decision has been made
Ongoing challenges during the employment relationship
Terminating the employment relationship
Events after the employment relationship ends
This course covers up-to-date trends and issues in employment law and human resources including anti-discrimination and immigration laws, the Family Medical Leave Act, workers' compensation, EEOC audits and enforcement, and federal requirements under HIPAA and OSHA. Attend this program and gain confidence in your ability to establish an environment that fosters a compliant culture and avoids common pitfalls in human resource management.
Praise for Heidi Kocher's previous course on Contract Law (Online Training Center) :
I appreciate Heidi's knowledge and the way she shared it. She didn't use lawyer language, instead, she was easy to understand and follow.
- Andy McEntire, CMOM, CWP
Excellent 6-hour course. I am the business manager in a practice and a CPA, it has been a long time since I took business law but find that it is something that I deal with almost daily in one form or another.
- Anonymous
Continuing Education Units (CEUs)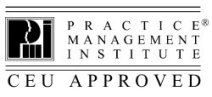 Earn 6 PMI CEUs for attendance at this program. Practice Management Institute grants CEUs for its certified professionals based on total number of instructional hours (1 CEU per hour of classroom instruction). CEUs may be applied to annual recertification requirements, as directed in the certification renewal requirements for your credential(s).
If you are seeking CEU credits for other certifications or organizations, please contact your organization for pre-approval and credit guidelines. A certificate of attendance will be provided.