| | |
| --- | --- |
| Instructor: | Heidi Kocher, JD, MBA, CHC |
| Schedule: | Attend six one-hour sessions: March 21, 28, April 4, 11, 25 and May 2 from 10-11 a.m. Central Time (8 a.m. Pacific, 11 a.m. Eastern). Can't attend all the live sessions? All recordings will be accessible to registrants of this webinar in PMI's Online Training Center for 6 months following the conclusion of the live course.* |
| Fee: | N/A |
| CEUs: | PMI certified professionals will earn 6 CEUs. A certificate is sent via email upon completion of the course. |
*Multisession webinar courses are not included with Total Access subscription.
If you missed this popular pre-conference session at the 2017 National Conference, Heidi's back with her comprehensive presentation suited for anyone responsible for handling contractual matters in a medical practice. Whether you are negotiating a contract with a health plan, entering into a new lease agreement, or reviewing your practice's employment agreement contract, best practices dictate the fully informed approach. Contracts are not an area of practice management where you should be flying blind. The practice's contracts and operational documents are key components that determine its success.
Ms. Kocher will address the following types of contracts and agreements:
Business associate agreements
Forming or dissolving a medical practice (partnerships, LLCs, professional associations)
Leases
Medical services contracts
Payer contracts
Physician recruitment and income/guarantee contracts
Professional services and employment agreements, such as medical directorships
Heidi will lead you through a comprehensive review of contracts and other legal agreements commonly in place in medical practices. Understand the elements of employment contracts and the effectiveness and enforceability of restrictive covenants. Recognize that physician practice management arrangements and lease agreements require knowledge of applicable state laws. While enforcement actions related to HIPAA Business Associate agreements used to be rare, now in Phase 2, OCR is looking at Business Associates as well as providers during site audits. Be aware of how to protect your practice through the Business Associate Agreement.
Attend this program and learn to decipher the legalese while gaining confidence for responding to health care business governance issues. Are you familiar with the adage "the best defense is a good offense?" Be proactive and protect the long-term interests of your provider's practice.
Heidi's session received excellent reviews from PMI's 2017 Las Vegas Conference
"The topics today were extremely helpful; very detailed and in-depth into healthcare law. One of the best lectures PMI has offered."
-Eduardo Rubio
"Practice Management from a Legal-Contractual Perspective was a great session. I learned many legal terms and concepts that I can apply in our practice…"
-Courtney Waggoner
"Heidi is a great speaker - very knowledgeable and very helpful. Excellent session. (I am) going to put things in place in my practice."
-Ruby Cazares
Continuing Education Units (CEUs)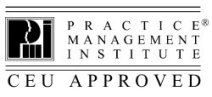 Earn 6 PMI CEUs for attendance at this program. Practice Management Institute grants CEUs for its certified professionals based on total number of instructional hours (1 CEU per hour of classroom instruction). CEUs may be applied to annual recertification requirements, as directed in the certification renewal requirements for your credential(s).
If you are seeking CEU credits for other certifications or organizations, please contact your organization for pre-approval and credit guidelines. A certificate of attendance will be provided.