Optimizing the Patient Experience: A Team Approach
| | |
| --- | --- |
| Instructor: | Pam Joslin, MM, CMC, CMIS, CMOM, CMCO, CEMA |
| Schedule: | Two 90 minute live webinar sessions on 4/19, 4/26, from 12 PM-1:30 PM Central Time (10 AM Pacific, 1 PM Eastern) |
| Fee: | $199.00 per person |
| Target Audience: | Managers, clinicians, and office staff are encouraged to attend. |
| Prerequisites: | This class is for anyone working with a medical office team in an outpatient setting. |
| Materials: | Two live, 90-minute webinar sessions, Wednesdays, April 19 & 26 from 12 noon to 1:30 p.m. Central Time, and a digital course manual. To ensure access to webinar log in details, set meetings@meetings.readytalk.com as a Safe Sender in your email server. Webinars will be recorded and made available for purchase in a self-paced format on April 28. |
| CEUs: | PMI certified professionals will earn 3 CEUs. A certificate will be emailed upon completion of course. |
This Webinar Course is not included as part of the Total Access subscription package. All sessions will be recorded and made available as a self-paced webinar course.
Program Description
Patients that are both satisfied and engaged are most likely to achieve better outcomes. But satisfied and engaged patients are not the same thing. MACRA's financial incentives and penalties are associated with patient engagement and outcomes. This course helps lay the groundwork in pursuit of better patient care and improved outcomes.
Your team will learn how to:
maximize patient satisfaction and engagement to improve outcomes and incentive payments,
involve patients and their families with surveys and clinical engagement methods,
measure patient satisfaction and boost quality measures,
create a plan to follow-up and act on negative patient feedback,
learn when and how to discharge patients not following their care plan.
A new performance category introduced this year allows clinicians to receive partial or full payment credit for care coordination, beneficiary engagement, and patient safety.

Class Highlights
Learn why team engagement is essential for MACRA and how the patient experience affects quality measures.
Define the team's role in patient satisfaction and patient engagement as part of the overall patient experience.
Understand the connection between quality measures and reporting outcomes.
Review the impact of Internet-based ratings such as Physician Compare, HealthGrades, and peer-to-peer measurement websites.
Patients and caregivers grade their experience based on feelings, actions and results. Learn how this correlates with performance measures.
Make a timeline that includes a patient experience continuum and improvement goals.
Discuss a plan for future gains in performance measures.
Create a patient survey and act on results.
Establish and enforce patient discharge criteria and procedure.
Continuing Education Units (CEUs)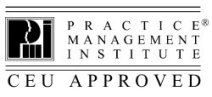 Earn 3 PMI CEUs for attendance at this program. Practice Management Institute grants CEUs for its certified professionals based on total number of instructional hours (1 CEU per hour of classroom instruction). CEUs may be applied to annual recertification requirements, as directed in the certification renewal requirements for your credential(s).
If you are seeking CEU credits for other certifications or organizations, please contact your organization for pre-approval and credit guidelines. A certificate of attendance will be provided.

About the Presenter
Pam has more than 20 years of medical practice management, coding, reimbursement and compliance experience. She has managed in medical practices ranging from single to multi-specialty groups, including ASC. She is an advocate of process improvement and maximizing and empowering your employees to bring about the "best practice" results for your organization. She received her Master's in Management from University of Phoenix. She maintains memberships in professional organizations to support her continuing cycle of learning in the ever-changing healthcare industry. Prior to joining the PMI Instructor team she was an Adjunct Instructor and served on three advisory boards at a community college in San Antonio.