Optimizing the Patient Experience
Instructor:
Misty Nelson, LPN, CMC, CMIS, CMOM, CMCO
Schedule:
Two instructor-led, 90-minute live online training sessions: April 22 and 29, 12 noon to 1:30 p.m. Central (10 a.m. Pacific, 1 p.m. Eastern).
NOTE: Live session attendance is optional. See the materials section below for more information. Sessions are recorded and available in PMI's Online Training Center 2-4 days after the last recording date. Registrants receive access to the session recordings and digital course manual for 6 months.
Online Course Fee:
$199 per person*
Target Audience:
This training is for anyone working with a medical office team in an outpatient setting. Managers, clinicians, and office staff are encouraged to attend.
Materials:
Registration includes a digital course manual
CEUs:
PMI certified professionals earn 3 CEUs, emailed with certificate of completion
*This Online Course is not included as part of the Total Access webinar subscription package.
Promote patient engagement and healthy outcomes and improve your bottom line. This session will help you create a patient-centric experience that promotes engagement in their own care. Receive tips and tools to measure patient satisfaction and boost quality measures.
Class Highlights
Learn why team engagement is essential for MACRA and how the patient experience affects quality measures.
Define the team's role in patient satisfaction and patient engagement as part of the overall patient experience.
Involve patients and their families with surveys and clinical engagement methods.
Create a plan to follow-up and act on negative patient feedback.
Learn when and how to discharge patients not following their care plan.
Understand the connection between quality measures and reporting outcomes.
Review the impact of Internet-based ratings such as Physician Compare, HealthGrades, and peer-to-peer measurement websites.
Patients and caregivers grade their experience based on feelings, actions and results. Learn how this correlates with performance measures.
Make a timeline that includes a patient experience continuum and improvement goals.
Discuss a plan for future gains in performance measures.
Create a patient survey and act on results.
Establish and enforce patient discharge criteria and procedure.
Learn practice marketing tactics and strategies for creating and managing a social media presence for your office.
Continuing Education Units (CEUs)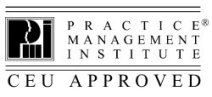 Earn 3 PMI CEUs for attendance at this program. Practice Management Institute grants CEUs for its certified professionals based on total number of instructional hours (1 CEU per hour of classroom instruction). CEUs may be applied to annual recertification requirements, as directed in the certification renewal requirements for your credential(s).
If you are seeking CEU credits for other certifications or organizations, please contact your organization for pre-approval and credit guidelines. A certificate of attendance will be provided.

About the Presenter
Misty has more than 12 years of healthcare experience. Her nursing background combined with her management experience, industry knowledge and natural teaching ability are the perfect fit for the classroom.
She has worked as a Practice Manager for two health centers in North Carolina where her responsibilities included management of clinical and support staff, as well as day to day operations of a FQHC. Misty was responsible for maintaining HIPAA and OSHA compliance and wrote an emergency action plan. She also handled the practice budget and productivity, and had a hand in the scheduling of residents and faculty. With both clinical and practice management knowledge, she has been able to understand and participate in quality assurance programs and nursing care plans.
Misty graduated Magna Cum Laude from ECPI College of Technology Medical Careers Institute in Greenville, SC.