PMI Basics: Medical Office Receptionist Skills
| | |
| --- | --- |
| Instructor: | GeoJan Wright, CMC, CMIS, CMOM |
| Dates: | Two 90-minute live webinar sessions on Thursdays, 9/28 and 10/5 |
| Time: | 10 a.m. to 11:30 a.m. (8:00 a.m. Pacific, 11:00 Eastern). |
| Fee: | N/A per person. This Webinar Course is not included as part of the Total Access subscription. |
| Target Audience: | This class is appropriate for anyone responsible for patient communication, data collection and scheduling. Beginners and seasoned staff will return to the office with practical tips and new ideas for improving performance. |
| Prerequesites: | This is a basic level course appropriate for anyone responsible for patient communication, data collection and scheduling. No prior training is necessary, and no outside materials are required. |
| Materials: | Participants receive a digital course manual. Set meetings@meetings.readytalk.com as a Safe Sender in your email server. |
| CEUs: | PMI certified professionals will earn 3 CEUs. A certificate is sent via email upon completion of the course. If you are seeking CEUs for other organizations, contact them for pre-approval and credit guidelines. |
This course will be recorded and available in PMI's Online Training Center approximately four days after the last recording date. Registrants for this webinar course will receive access to these session recordings and digital course manual for up to one year.
Program Description
Employee professionalism, attitude, awareness and accountability can make or break how well your office is perceived by patients and their families. This class will improve patient communication, data collection, and compliance. A well-trained front office gathers accurate information, makes appropriate scheduling decisions, proactively addresses challenging patient behavior, and secures the privacy and security of sensitive patient information. Participants return to the office armed with problem-solving skills, heightened awareness of privacy and security compliance and better overall management of the front desk.
Course Highlights
Personal skill-assessment inventory review
Effective patient education of practice policies
Patient confidentiality and HIPAA compliance
Listening and time management skills
How stress affects your voice and demeanor
Make your voice and personality your best asset
Turn routine patient relations into outstanding customer service
How to communicate with angry or abusive patients and a variety of personalities
Conflict resolution tactics that really work
Overview of the billing and collections process
Schedule appointments more efficiently
How to handle no-shows, short-notice appointments, walk-ins, and excessive wait time
Medical ethics & medical etiquette
Good patient relations - the best marketing in town
Collecting co-pays at time of service
Introduction to charting and the medical record
Continuing Education Units (CEUs)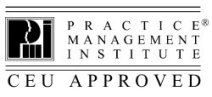 Earn 3 PMI CEUs for attendance at this program. Practice Management Institute grants CEUs for its certified professionals based on total number of instructional hours (1 CEU per hour of classroom instruction). CEUs may be applied to annual recertification requirements, as directed in the certification renewal requirements for your credential(s).
If you are seeking CEU credits for other certifications or organizations, please contact your organization for pre-approval and credit guidelines. A certificate of attendance will be provided.

About the Presenter
GeoJan has more than 25 years of health care experience in all phases of management, business operations, state and federal regulations. She has worked in billing and collection operations, human resources, payroll, accounts payable, accounts receivable, employee benefit programs, monthly management reports and reconciliations, daily financial activities, scheduling, OSHA regulations, CLIA regulations, radiology and laboratory operations. She has hands-on experience in all phases of insurance, including worker's compensation and HMO's. GeoJan has participated in expansion projects with the SmartLab system, developed programs for physician office training, and founded a local office manager's association. She has specialized training in insurance, coding and as an Authorized Trainer for OSHA 501 courses. Additionally, she has worked in collections for two large hospital systems. She has recent experience onboarding physicians and setting up and managing medical practices as the Market Operations Manager. GeoJan's strong work ethic and organizational and problem-solving skills make her an excellent communicator who believes in fostering teamwork. Her teaching experience includes serving as an instructor for Angelina College's Community Service division.