Transform the Front Desk Staff – Version 2.0
Instructor:
Lisa Maciejewski-West, CMC, CMIS, CMOM, MCS-P
Schedule:
Two instructor-led, 90-minute live online training sessions: May 15 and 22, 12 noon to 1:30 p.m. Central (10 a.m. Pacific, 1 p.m. Eastern).
NOTE: Live session attendance is optional. See the materials section below for more information. Sessions are recorded and available in PMI's Online Training Center 2-4 days after the last recording date. Registrants receive access to the session recordings and digital course manual for 6 months.
Online Course Fee:
$199 per person*
Target Audience:
This training is for anyone working in front office/patient relations role
Materials:
Registration includes a digital course manual
CEUs:
PMI certified professionals earn 3 CEUs, emailed with certificate of completion
*This Online Course is not included as part of the Total Access webinar subscription package.
Turn routine patient relations into outstanding front office communications. This newly updated course will nurture good front line practices: communication, organization, professionalism, problem solving, along with privacy and security awareness. Participants will learn how to handle difficult patients with tact, diplomacy, and grace.
Class Highlights
Complete an individual skill-assessment inventory
Address difficult personalities with communication and conflict resolution skills
Explore effective appointment scheduling and decision-making techniques
Learn how to improve patient engagement with positive communication
Review sample patient education and payment policies
Introduction to the medical record
Review effective insurance verification, billing and collections practices
Learn strategies to secure co-pays at time of service
Review patient confidentiality guidelines and HIPAA compliance
Guided discussion on creating a positive first and last impression
Improve listening skills and time management
Understand and distinguish medical ethics and medical etiquette
Enhance patient collections efforts with sample scripts
Workplace violence and active shooter response resources
Continuing Education Units (CEUs)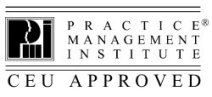 Earn 3 PMI CEUs for attendance at this program. Practice Management Institute grants CEUs for its certified professionals based on total number of instructional hours (1 CEU per hour of classroom instruction). CEUs may be applied to annual recertification requirements, as directed in the certification renewal requirements for your credential(s).
If you are seeking CEU credits for other certifications or organizations, please contact your organization for pre-approval and credit guidelines. A certificate of attendance will be provided.


About the Presenter
Lisa has been involved in the medical billing, management and consulting field since 1982. In 2006, she founded Gold Star Medical Business Services, an award-winning company that provides remote billing services for physicians in small to medium-sized individual and group practices. Prior to starting Gold Star Medical, she worked for one of the largest Practice Management consulting firms in the country.
Lisa has consulted with hundreds of doctors as a practice management coach and has spoken at hundreds of seminars throughout the United States, both as a teacher and motivational speaker. She is PMI's Director of Business Development for the West Central Texas region, and an adjunct instructor with the Angelo State University Small Business Development Center, and teaches a variety of business classes to new and prospective business owners.