Instructor:
Pam Joslin, MM, CMC, CMIS, CMOM, CMCO, CEMA
Schedule:
Four 90-minute live webinar sessions on 5/15, 5/22, 5/29, 6/12, 11:00 am – 12:30 pm Central (10 a.m. Pacific, 1 p.m. Eastern) Set meetings@meetings.readytalk.com as a Safe Sender in your email server to ensure access to login information.
Fee:
N/A*
Target Audience:
Physicians, clinical personnel, compliance, auditing, management, coding and clinical staff with a basic understanding of CPT coding
Materials:
Participants should have the current year CPT code manual in order to participate fully in this course. Registration includes a digital course manual, supplied in advance of the first session.
CEUs:
PMI certified professionals will earn 6 CEUs. A certificate is sent via email upon completion of the course.
*This Webinar Course is not included as part of the Total Access subscription package. Discount code may be applied.
Learn current guidelines to improve claim accuracy, reduce denials, audit scrutiny, and help ensure that providers receive correct reimbursement.
This course will be recorded and available in PMI's Online Training Center 2-4 days after the last recording date. Registrants receive access to the session recordings and digital course manual for 6 months following the conclusion of the live course.
Course Highlights
Review instructions for use of CPT codebook, symbols, and valuable resources inside
Instructions on the CPT procedural coding process
Correct use of add-on codes
Expanded guidelines and coding tips
Review of the anatomy and function of the body systems
Practice correctly coding operative notes and leave feeling confident
How to accurately apply modifiers when they are required and understand the impact on reimbursement
How to report and get paid for unlisted procedures
Integrate 2018 CPT and HCPCS code changes (new and deleted codes), and guidelines into practice
Actively practice coding exercises and scenarios in each section (ex. the body systems and modifiers)
A current CPT code set manual is recommended to receive the most benefit from the instruction. Participants should have a basic understanding of CPT coding. Terminology such as fragmenting, bundling, and unbundling of codes will be explained, and hands-on practice exercises will cover a variety of coding scenarios to solidify new knowledge.
Continuing Education Units (CEUs)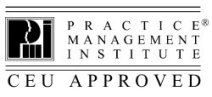 Earn 6 PMI CEUs for attendance at this program. Practice Management Institute grants CEUs for its certified professionals based on total number of instructional hours (1 CEU per hour of classroom instruction). CEUs may be applied to annual recertification requirements, as directed in the certification renewal requirements for your credential(s).
If you are seeking CEU credits for other certifications or organizations, please contact your organization for pre-approval and credit guidelines. A certificate of attendance will be provided.