Practice Management Institute (PMI) will co-host the Evaluation & Management Symposium for Medical Coders, Auditors, Managers and Providers. This four-day virtual learning event is presented by the Healthcare Administration Alliance September 22-25 and includes an incredible line-up of subject matter experts and professionals.
After almost 30 years of the same codes and coding guidelines, the most commonly reported subset of Evaluation and Management (E/M) have been revised to finally bring these codes into the 21st century. The original codes and guidelines were published when DOS (Disk Operating System) was the most prevalent computer system. Today, providers with iPads and tablets in hand are caring for patients in a high-tech environment while being governed by decades-old documentation and coding guidelines.
The changes to the E/M codes and coding guidelines are significant, and all provider offices must be ready to use the new codes and guidelines on January 1. Because of the urgency and scope of this new information, and with all that has happened this year, it made sense to forgo our annual conference and focus on getting the E/M training out to as many offices as possible. That is why PMI has joined forces with the Healthcare Administration Alliance to present the Evaluation & Management Symposium. This cooperative effort to take on E/M from every angle in a distance learning format is the ideal training solution for every medical office in the country in 2020. Here's why.
18 Topics - Choose from dozens of important training topics and discussion panels that will address all angles of E/M code use and guidelines. An optional 6-hour E/M bootcamp is available September 22.
15+ Presenters - Well-known healthcare administration experts with vast industry knowledge and training experience. The presenter list continues to evolve as representatives from CMS, the AMA, and AHIMA are also expected to stand on our virtual stage alongside a star-studded lineup of industry experts.
3+ Days of Virtual Training - Distance learning is the new normal. Our robust training platform allows for multiple training tracks and presenters and enables registrants to participate live and/or get access to recorded sessions. Day 1 is an optional E/M Fundamentals Bootcamp and Certificate.
Virtual Exhibitors will also be on hand to share resources and products to help your office be more productive.
PMI Coupon Codes
Prices listed below are before PMI discount code applied.
September 22 Bootcamp $349
Use code: PMIBC100 at checkout to save $100
September 23-25 Conference $849
Use code: PMIEM100 at checkout to save $100
Best Value! September 22-25 Bootcamp + Conference $1148
Use code: PMI250 at checkout to save $250
CEUs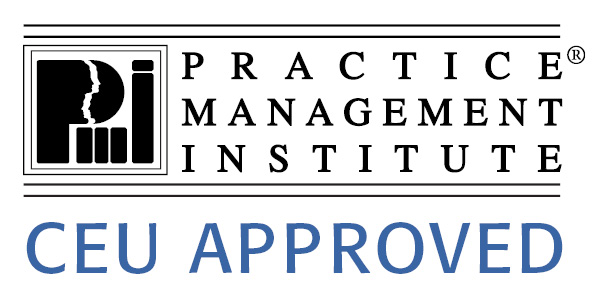 PMI-certified professionals are awarded up to 6 CEUs for each day of conference attendance. CEUs are granted per session attended and can be applied to annual recertification requirements for Certified Medical Coder (CMC)®, Certified Medical Insurance Specialist (CMIS)®, Certified Medical Office Manager (CMOM)®, Certified Medical Compliance Officer (CMCO)®, and Certified Medical Chart Auditor – E/M (CMCA-E/M).
About the Healthcare Administration Alliance
The Healthcare Administration Alliance is an independent member-driven organization founded in 2019 by healthcare administration stakeholders in response to a growing need for promotion, cooperation, and interoperability among entities and individuals involved in the administration of healthcare. For more information, visit www.healthadmin.org.