Grow your leadership and problem-solving skills in a medical office. This course will improve your confidence and value so you can take charge of administrative responsibilities and protect providers from risk. Test your knowledge with our free Medical Office Management Assessment.
Linda D'Spain

CMPE, CMC, CMIS, CMOM, CMCO, CMCA-E/M
---
Linda is President of her medical practice management consulting firm, D'Spain Consulting. She travels the country conducting national seminars, workshops and webinars and consulting with physician practices, hospitals and medical societies on healthcare reimbursement, documentation guidelines, procedural and diagnostic coding, financial management, human resources, medical office management and compliance with fraud and abuse, OSHA, and HIPAA. She has also served as an Independent Review Organization (IRO) for the Office of the Inspector General and consulted for the Texas Medical and Dental Boards.
With more than 30 years of experience in medical practice management, Linda has managed cardiology, cardiothoracic, vascular surgery, physical therapy, orthopedics, pediatric orthopedics, gynecology and reproductive endocrinology and large multispecialty group practices. She maintained broad responsibilities in business and clinical operations, financial management, governance and organizational dynamics, human resource management, marketing, customer service, compliance, information system management, mergers and acquisitions and risk management.
Linda has attained all five PMI certifications. She also has a degree in Business Administration and is a Board Certified Medical Practice Executive through the American College of Medical Practice Executives, a member of the San Antonio Medical Group Managers Association (MGMA) and has served as an advisory board member with PMI.
According to the U.S. Bureau of Labor Statistics, jobs for certified medical office managers will increase by 20% by 2026.
As the baby boomer generation retires, there will be a high demand for certified managers.
With certification, you demonstrate managerial competency in the medical practice.
With the advanced knowledge you gain, you have the edge in the industry.
CMOMs can transition into and advance their careers in other supervisory roles.
Candidates for CMOM certification should have a minimum of one year of experience working in a medical practice. CMOM certification course registration includes a digital course manual, workbook exercises, exam review, and three-hour proctored exam. A passing score of 70 percent or better is required to earn the CMOM certification.
Are you ready? Take our free online assessment now.
Note: candidates that hold additional certifications through Practice Management Institute can earn 20 CEUs for completion of the CMOM course.
Candidates will learn advanced administrative concepts and processes to become a more knowledgeable and confident leader. Improve communication with providers, staff, third-party payers, patients, and business associates. Course materials include guidelines and examples designed to improve decision-making and tactical skills.
Graduates of this program will be better prepared to manage risk, motivate employees and improve the financial outlook in a medical office.
Certified Medical Office Manager
Practice Management
Review of practice administration role and responsibilities
Facility, operational, and time management
Review of practice administration roles and responsibilities
Facility, operational and time management
Employee relations, laws and guidelines
Employee handbook and business policies
Administration of medical records and patient relations
Labor regulations and reporting requirements
Terminating the patient/provider relationship
Risk Management and Quality Assurance
Sexual harassment, discrimination, and substance abuse
Personnel Management
Creating effective job descriptions, interviewing, and hiring tips
Team building and managing conflicts
Handling staff grievances, evaluations and performance issues
Compensation and benefits packages attract talent and minimize turnover
Proper maintenance of employee personnel files (e.g. Form I-9)
Goal setting and conducting effective staff meetings
Termination procedures and the exit interview
Physician and staff retention and motivation
Coping strategies for difficult employees
Leadership vs Management
Financial Management
Financial planning, calculations, and controls
Examining contracts and fee schedule
Patient education, verification, and collections procedures
Accounts receivable, status and activity reporting
Developing and maintaining a budget
Revenue and cost accounting
Maximizing cash flow and controlling overhead
Cost analysis, forecasting, and new revenue streams
Compliance Requirements
MACRA and the Quality Payment Program
HIPAA and OSHA compliance
Implementing the OIG's recommended compliance program
Policies and procedures that inhibit fraud/abuse
Identifying and controlling the risk of medical identity theft
Legal protections, risk management, and compliance checklists
Managed Care Delivery System
Physician credentialing and privileging
Payer contract evaluation, negotiation, and termination
Calculating the right patient-payer mix for your office
Physician Utilization Committee review process
Utilization control techniques
HMO, IPA, MSO, PPO definition, purpose, and analysis
Assigning an internal managed care coordinator
Health insurance exchanges
Value-based care and quality metrics
Coordination of benefits
ACOs and Patient-Centered Medical Homes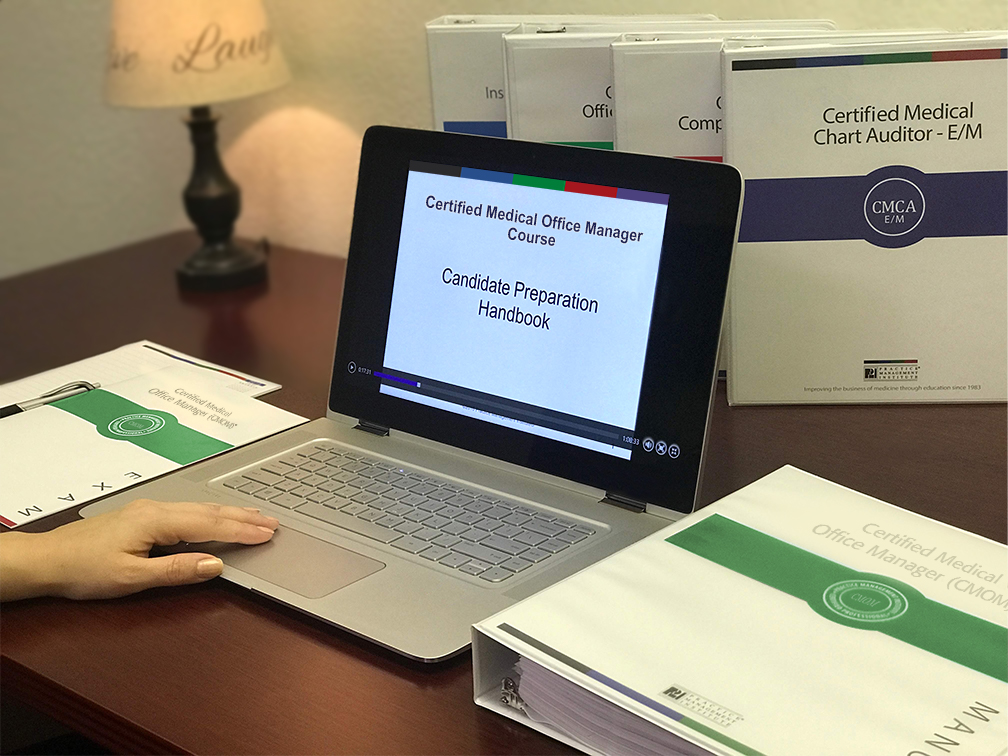 Live Class
Attend instructor-led classroom sessions, hosted in select hospitals, healthcare organizations, medical societies and colleges across the U.S.
Live Certified Medical Office Manager classroom format includes a full course manual and timed, three-hour, 100-question, proctored certification exam. A score of 70% or better is required to earn the CMOM certification. If a passing grade is not achieved on the first attempt, candidates may re-test for an additional fee.
Live Online Training
Participate in the Certified Medical Office Manager course remotely with access to a series of ten live 90-minute instructor-led webinars (limited availability). Attendance at all live sessions is not required; registered participants can access the recorded sessions online anytime within 24-48 hours after the original recording date.
This format also includes a physical manual, printable end-of-module quizzes with answer keys, and exam. The exam is a timed, three-hour, proctored certification exam, scheduled by PMI's Exam Coordinator near the candidate's location (usually a testing center or college in the area). A score of 70% or better is required to earn the CMOM certification. If a passing grade is not achieved on the first attempt, candidates may re-test for an additional fee.
Online Training
Start the Certified Medical Office Manager online training program anytime with access to ten 90-minute, instructor-recorded sessions.
The Certified Medical Office Manager online training format includes a physical course manual, printable end-of-module quizzes with answer keys, and timed, three-hour, proctored certification exam, scheduled by PMI's Exam Coordinator near the candidate's location (usually a testing center or college in the area). A score of 70% or better is required to earn the CMOM certification. If a passing grade is not achieved on the first attempt, candidates may re-test for an additional fee.
Request Exam
Experienced professionals may choose to challenge the Certified Medical Office Manager certification exam for a $299 fee.
"I thought I knew everything I needed to perform my duties. This class was an eye-opener! I have been in my job for 10+ years and I can only wish I had taken the course back then. Incredibly valuable information no matter how much experience you have. Highly recommend."   - Jacquelyn Arzooyan, CMOM, Ann Arbor, MI
"From an employer's perspective, it was important to set a baseline of knowledge for our managers and supervisors, and I wanted to integrate a program that was recognized in the industry. I learned about PMI and the CMOM program from a nearby university medical center that required all their office managers to be certified. The concept of having a standard baseline for competence and knowledge – something shared by peers – was an important step toward elevating manager effectiveness."   - Lindsay Usher, MA, PHR, SHRM-CP, PCC, Director of Human Resources, Northern California Medical Associates
"For over three years, South Texas College has partnered with PMI to provide training programs that directly impact the job of medical office professionals. The quality of PMI's programs, as well as the expertise and professionalism of their instructors, is excellent. Our students are always pleased with the programs that PMI provides. We are grateful to PMI for the opportunity to partner with them and provide these services in our community."   - Olivia de la Rosa
Director- Continuing, Professional, and Workforce Education, South Texas College, McAllen, TX 
"As an employer, I strongly value education and support all my staff for continued learning and updating so we can all work as a team and speak the same language! I am so grateful to PMI for really changing my life professionally as well as personally. I can work smarter not harder and have more free time with my family!"   - Linda D. Parsi, MD, MBA, CPEDC, FAAP
"My experience in taking the CMOM course has not only provided me with the tools necessary to manage a practice but do it more effectively and efficiently. Before taking the course, I had a background in sales and customer service with some experience in management. Throughout the curriculum of the class, I was continuously impressed with the material covered. I have never worked for a practice or in the medical field, so it was all new, but easily adaptable.
As we went through the program, I could not imagine managing a practice without the material that is cover in the course. I truly feel it is vital for any type of practice in the medical field. As a matter of fact, the information covered can be utilized in any management role. CMOM has given me the confidence to move ahead with my goal to be in the medical field and I'm proud to be a CMOM."  - Dwayne Downs, CMOM, Newark, DE
"I can't say enough about the professionalism from PMI during my path to excellence in becoming a CMOM. While I am happy that MultiCare Regional Cancer Center is part of a large healthcare organization, learning the components of the course has helped me to appreciate all that goes into managing a practice. I have used the education component of the program daily in my leadership role and am so appreciative to PMI for creating such an organized course. Although I will be the first in the state of Washington to obtain the CMOM-HEM/ONC certification, I am certainly talking it up to other leaders within my organization and I look to lead the way for many CMOMs to come."   - Alicia Duvall, RN, CMOM
"CMOM was a deep dive into the structure, compliance, finance, personnel, and insurance knowledge necessary to be an effective healthcare organization leader."   - Jason Buss, Bryan Health, Lincoln, NE
"The Michigan Society of Hematology & Oncology (MSHO) is thrilled to have partnered with Practice Management Institute (PMI) to help develop the Certified Medical Office Manager certification for the Business of Oncology. We chose to work with PMI because of their outstanding reputation as leaders in the industry, the rich content of the curriculum, and their expert faculty. We recognize the value it brings to our practices having their managers complete this course. Obtaining the CMOM-HEMONC certification gives managers the knowledge, skills, and experience necessary to successfully navigate today's ever-changing physician practice/hospital.  It has been a complete pleasure working with PMI and we look forward to our continued relationship."   - Mary Kay Makarewicz, Executive Director, Michigan Society of Hematology & Oncology
"On behalf of the CMOM attendees and Akron General, I want to acknowledge what a fantastic job Maxine Collins has done with this week's PMI program. The attendees are having a wonderful experience and great time with Max. Her personality just lights up a room and has made this CMOM class extremely enjoyable for all the participants. A hearty thanks to PMI (and especially Max) for a job well done!!! You guys are the best!"   - Dennis Nordquest, Manager, Physician Relations, Akron General Medical Center