ICD-10-CM Coding Update
More than 400 ICD-10-CM code changes will go into effect on October 1st for patient encounters occurring from Oct. 1, 2018 through Sept. 30, 2019. A number of specialties will be impacted. Don't let improperly coded claims put a choke hold on your revenue - gain the facts on the code changes in this ICD-10-CM update program.
Review details on the new 2019 codes for affected newborns of maternal substance use, urethral strictures, myalgia, and exposure to Zika virus. Understand the impact of the code changes including coding for pregnancy, perinatal, pediatric behavioral conditions, appendicitis, postpartum depression, kidney stones, post-surgical infections, and sexual or labor exploitation.
Highlights:
·247 new codes
·143 code revisions
·51 deletions
Attend this program to ensure your providers are informed of the documentation elements needed to report the new codes. The latest news available on ICD-10-CM coding guidelines and reporting requirements will also be covered.
Why Attend
Participants will receive a course manual with a summary of the code changes and resource links for use beyond the classroom PLUS an explanation of the changes and their potential impact on the practice.
Who Should Attend
This course will provide the most current reimbursement information available for ICD-10-CM specifically for medical office coding and billing professionals, providers, office managers, consultants, and compliance officers.
Prerequisites
This is an intermediate-level course. Content assumes knowledge of outpatient coding and reimbursement.
What to Bring
Participants will receive a class manual and access to faculty to address specific questions. No additional outside resources are needed.
Continuing Education Units (CEUs)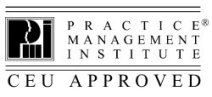 Earn 3 PMI CEUs for attendance at this program. Practice Management Institute grants CEUs for its certified professionals based on total number of instructional hours (1 CEU per hour of classroom instruction). CEUs may be applied to annual recertification requirements, as directed in the certification renewal requirements for your credential(s).

If you are seeking CEU credits for other certifications or organizations, please contact your organization for pre-approval and credit guidelines. A certificate of attendance will be provided.

10U-0718