Home > Curriculum > ICD-10-CM Coding Update
ICD-10-CM Coding Update
The importance of consistent, complete documentation in the medical record cannot be overemphasized. Medical record documentation from any provider involved in the care and treatment of the patient may be used to support the determination of medical necessity of treatment.
As stated in the Introduction to the ICD-10-CM Official Guidelines for Coding and Reporting, "a joint effort between the healthcare provider and the coder is essential to achieve complete and accurate documentation, code assignment, and reporting of diagnoses and procedures."
Beginning October 1, 2020, hundreds of ICD-10-CM code changes will go into effect for patient encounters impacting numerous specialties. Don't let improperly coded claims break your revenue cycle. Let us help you save time and gain the facts on the code changes in this very informative ICD-10-CM update program.


490 new codes

47 code revisions

58 deleted codes

Examples of ICD 10 2021 Code Category Updates Include:

New Codes:

D57- sickle-cell disorders

D89- other disorders involving the immune mechanism- not elsewhere classified

F10- Alcohol abuse and use with withdrawal

F19- other psychoactive substance related disorders

H18- other disorders of cornea

M05- rheumatoid arthritis with rheumatoid factor

M06- other rheumatoid arthritis

M08- juvenile arthritis

M19- other and unspecified osteoarthritis

M92- Juvenile osteochondrosis

S20- superficial injury of thorax

T40- poisoning by- adverse effect of and underdosing of narcotics and

psychodysleptics

(hallucinogens)

V00-V06 for electric scooter and other micro-mobility pedestrian conveyance injuries



Z68- Body mass index (BMI)

Z88- Allergy status codes
Attend this program for new information on coding guidelines and reporting requirements.

Prepare your providers to document properly to support 2021 ICD 10 new codes.

How to collaborate with your Practice Management System and EHR vendors to update coding and billing software.

Identify any templates or other documents that will need to be updated and / or replaced.

Learn how a Clinical Documentation Improvement (CDI) review could benefit your revenue cycle.
Participants receive a course manual with a summary of all the code changes. Instructors will explain the changes and provide guidance on the potential impact on the practice, as well as resource links for use beyond the classroom.
This course will provide the most information available for ICD-10-CM specifically for medical office coding and billing professionals, providers, office managers, consultants, and compliance officers.
This is an intermediate-level course. Content assumes knowledge of outpatient coding and reimbursement.
Participants will receive a class manual and access to faculty to address specific questions. No additional outside resources are needed.
Continuing Education Units (CEUs)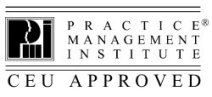 Earn 3 PMI CEUs for attendance at this program. Practice Management Institute grants CEUs for its certified professionals based on total number of instructional hours (1 CEU per hour of classroom instruction). CEUs may be applied to annual recertification requirements, as directed in the certification renewal requirements for your credential(s).

If you are seeking CEU credits for other certifications or organizations, please contact your organization for pre-approval and credit guidelines. A certificate of attendance will be provided.

10U-07242020
Program Schedule
Not able to attend a live session?
Check out our self-paced version!