ICD-10-CM Coding Update
Beginning October 1, 2019, more than 300 ICD-10-CM code changes will go into effect for patient encounters occurring from 10/1/19 through 9/30/20, impacting numerous specialties. Don't let improperly coded claims put a choke hold on your revenue - gain the facts on the code changes in this ICD-10-CM update program.
Review details on the new 2020 codes for closed and open fractures of the orbital wall surrounding the eye, deep tissue injuries and atrial fibrillation. Codes for phlebitis and thrombophlebitis will allow more specific coding for laterality and location. New codes to report chronic embolism and thrombosis will be selected based on laterality.
New for 2020 include T codes for poisoning, adverse effects or underdosing of multiple unspecified drugs, medicaments and biological substances divided into four causes: accidental, intentional, assault and undetermined. Codes for injuries sustained during a legal intervention will be introduced this year, as well as codes for heatstroke and sunstroke. Additions to Z codes will address factors influencing health status and contact with health services including a new code for latent tuberculosis.

Highlights:
273 new codes

30 code revisions

21 deleted codes
The latest information available on ICD-10-CM coding guidelines and reporting requirements will be covered. Attend this program to ensure your providers are informed of all they need to document these new codes.
Why Attend
Participants will receive a course manual with a summary of the code changes and resource links for use beyond the classroom PLUS an explanation of the changes and their potential impact on the practice.
Who Should Attend
This course will provide the most current reimbursement information available for ICD-10-CM specifically for medical office coding and billing professionals, providers, office managers, consultants, and compliance officers.
Prerequisites
This is an intermediate-level course. Content assumes knowledge of outpatient coding and reimbursement.
What to Bring
Participants will receive a class manual and access to faculty to address specific questions. No additional outside resources are needed.
Continuing Education Units (CEUs)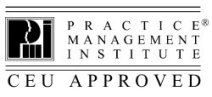 Earn 3 PMI CEUs for attendance at this program. Practice Management Institute grants CEUs for its certified professionals based on total number of instructional hours (1 CEU per hour of classroom instruction). CEUs may be applied to annual recertification requirements, as directed in the certification renewal requirements for your credential(s).

If you are seeking CEU credits for other certifications or organizations, please contact your organization for pre-approval and credit guidelines. A certificate of attendance will be provided.

10U-061719