ICD-10-CM Coding Update
Don't let improperly coded claims break your revenue cycle. The new ICD-10-CM annual code updates will impact several specialties patient encounters beginning on October 1. This intermediate-level, instructor-guided training will cover updates to the general and chapter-specific ICD-10 coding and reporting guidelines for patient encounters 10/1/22 through 9/30/23. Registration includes digital materials with a summary of code changes.
Learn the potential impact to your practice. A joint effort between the healthcare provider and the coder is essential to achieve complete and accurate documentation, code assignment, and reporting of diagnoses and procedures. This session will help determine what templates or other documents that may need to be updated and/or replaced. Ensure your EHR system code submissions remain accurate. Collaborate with your practice management system and EHR vendors to update coding and billing software.
Approximately 1176 new codes
Significant amount of codes are in the External Cause of Morbidity codes and Injury poisoning and Other consequences of External Causes
Focus on Social Determinants of Health – new Z codes
Several new codes for dementia (Neurology, Mental Health)
New codes for Diseases of the Circulatory System (Cardiology)
New OB codes for maternal care for (suspected) various specific nervous malformations or damage, chromosomal abnormalities or other fetal abnormalities by fetal site of fetus
139 new codes in Chapter 14 Diseases of the Genitourinary System; many new endometriosis codes by site and now depth (N80-)
Who Should Attend?
Medical office coding and billing professionals, providers, office managers, consultants, and compliance officers.
Prerequisites
This is an intermediate-level course. Content assumes knowledge of outpatient coding and reimbursement. No additional outside resources are required for participation. An ICD-10-CM code set manual may be helpful to best comprehend the context of the revisions that will be discussed.
Continuing Education Units (CEUs)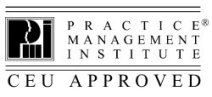 Earn 3 PMI CEUs for attendance at this program. Practice Management Institute grants CEUs for its certified professionals based on total number of instructional hours (1 CEU per hour of classroom instruction). CEUs may be applied to annual recertification requirements, as directed in the certification renewal requirements for your credential(s).
If you are seeking CEU credits for other certifications or organizations, please contact your organization for pre-approval and credit guidelines. A certificate of attendance will be provided.
10U-07152022