Home > Curriculum > PMI Basics: Introduction to Medical Coding
PMI Basics: Introduction to Medical Coding
Medical coders are charged with the responsibility of selecting correct codes for optimal reimbursement while protecting the medical practice from violations due to improper billing. This program provides an introduction to ICD-10-CM, CPT®, and HCPCS Level II coding systems and explores essential coding concepts that directly impact reimbursement for

health care

services provided in an outpatient setting.
Program Agenda:
Overview of the coding process
The role of the medical outpatient coder
Required training, skills, and abilities: analytical, clinical language, adherence to guidelines
Ethics, professionalism, and responsibilities
ICD-10-CM, CPT® and HCPCS coding references - what they are and how to use them
Explore symbols, punctuation, and abbreviations
Explanation of add-on codes, modifiers, bundling and unbundling
Coding to the highest degree of specificity
Accurate translation of documentation that supports proper code selection
Beyond the basics: the importance of certification and those that are recognized examples by CMS
Overview of coding audit principles: When, Why, Where and How is coding audited?
Who Should Attend?
Anyone interested in pursuing a career as a medical coder
New outpatient coders
Managers, clinical, and administrative staff seeking an overall understanding of the coder's role and responsibilities in the healthcare setting.
Continuing Education Units (CEUs)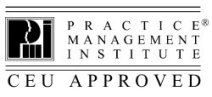 Earn 3 PMI CEUs for attendance at this program. Practice Management Institute grants CEUs for its certified professionals based on total number of instructional hours (1 CEU per hour of classroom instruction). CEUs may be applied to annual recertification requirements, as directed in the certification renewal requirements for your credential(s).
If you are seeking CEU credits for other certifications or organizations, please contact your organization for pre-approval and credit guidelines. A certificate of attendance will be provided.
Practice Management Institute 0818
Program Schedule
There are no live classes available at this time. See below for more options.
Can't find training near you?
Bring an Instructor onsite for group training. Contact info@pmiMD.com or call 800-259-5562, M-F, 8-5 Central
Subscribe to our Email List for updates and news about upcoming programs, conferences and more.
Not able to attend a live session?
Check out our self-paced version!