Using Modifiers to Improve Claim Accuracy
Documenting the Complete Patient Story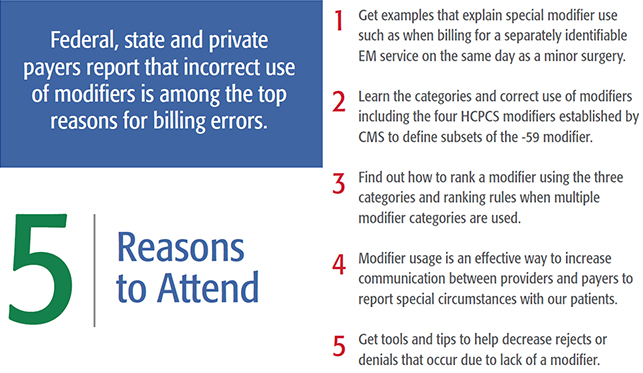 How is your confidence level when applying modifiers? An audit letter might make you second-guess yourself.
Don't lose revenue because of modifier misuse, non-use or just to bypass CCI edits! This class will explain modifiers and when it is appropriate to use a modifier to obtain proper payment.
Class Highlights:
Tips for correct use of -X(EPSU) modifiers
List and explanation of Levels I and II modifiers
E&M modifiers
HCPCS modifiers
Surgical Modifiers
Guidelines and usage tips
Negative impacts of modifiers
Sharpen knowledge of CPT® guidelines related to modifier usage
Why pricing modifiers are considered part of the seven-digit procedure code by CMS
Use of modifiers when services are in the global period
The difference between modifiers 25 & 59 and modifiers 52 & 53
Inclusion of medical necessity in documentation to support the use of modifiers
Audit risks and identification of abuse of modifiers as reported by CMS
Who Should Attend
Coders, billers, practice managers, charge entry and insurance specialist dealing with appeals should attend.
Prerequisites
At least one year of coding/billing experience for outpatient services is recommended.
What to Bring
Current year CPT and HCPCS manuals are required for this class.
PMI 051518