PMI Coding Workshop: CPT
Learn current guidelines to improve claim accuracy, reduce denials, audit scrutiny, and help ensure that providers receive correct reimbursement. Participants will receive up-to-date instruction on guidelines that third-party payers expect coders to follow in order to pay claims. The instructor will explain terminology such as fragmenting, bundling, and unbundling of codes.
Course Highlights:

Review instructions for use of CPT codebook, symbols, and valuable resources inside
Instructions on the CPT procedural coding process
Correct use of add-on codes
Expanded guidelines and coding tips
Review of the anatomy and function of the body systems
Practice correctly coding operative notes and leave feeling confident
How to accurately apply modifiers when they are required and understand the impact on reimbursement
How to report and get paid for unlisted procedures
Integrate 2018 CPT and HCPCS code changes (new and deleted codes), and guidelines into practice
Actively practice coding exercises and scenarios in each section (ex. the body systems and modifiers)
A current CPT code set manual is recommended to receive the most benefit from the instruction. Participants should have a basic understanding of CPT coding. Hands-on practice exercises will cover a variety of coding scenarios to solidify new knowledge.

Continuing Education Units (CEUs)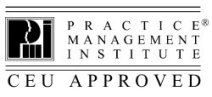 Earn 6 PMI CEUs for attendance at this program. Practice Management Institute grants CEUs for its certified professionals based on total number of instructional hours (1 CEU per hour of classroom instruction). CEUs may be applied to annual recertification requirements, as directed in the certification renewal requirements for your credential(s).
If you are seeking CEU credits for other certifications or organizations, please contact your organization for pre-approval and credit guidelines. A certificate of attendance will be provided.
Program Schedule
There are no live classes available at this time. See below for more options.
Can't find training near you?
Bring an Instructor onsite for group training. Contact info@pmiMD.com or call 800-259-5562, M-F, 8-5 Central
Subscribe to our Email List for updates and news about upcoming programs, conferences and more.