CPT Code Update
The AMA's Current Procedural Terminology code set for 2020 includes 394 changes with 248 additions, 71 deletions and 75 revisions. Attend this program to learn the details on these CPT® code changes, effective on January 1, 2020.
Six new codes have been added to report online digital evaluation services (e-visits). These codes for patient-initiated digital communication appear in both the E/M section and Medicine section. Two new codes will report self-measured blood pressure monitoring. Additional changes include new codes for health and behavior assessment and intervention services.
There is a significant enhancement in the codes for reporting long-term electroencephalographic (EEG) monitoring services with four deleted codes and 23 new codes to provide greater clarity when billing for these services.
Attend this session to find out how changes to the procedural codes and guidelines will impact billing in your specialty. This program will help you reduce denials and provide you a head start on keeping provider reimbursement on track in the new year.
Class highlights:
Learn to effectively navigate through the revisions to the updated code set
Enhance your understanding of CPT codes and guidelines
Receive coding guidance for current cutting-edge technology procedures
This is an intermediate-level course designed for medical office coders, billers, auditors, clinicians, and practice managers. Course materials will be provided for use beyond the classroom.
A CPT code set manual is not required to attend this course, but will be helpful to comprehend the context of the recent code changes.
Continuing Education Units (CEUs)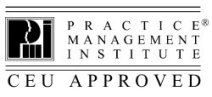 Earn 3 PMI CEUs for attendance at this program. Practice Management Institute grants CEUs for its certified professionals based on total number of instructional hours (1 CEU per hour of classroom instruction). CEUs may be applied to annual recertification requirements, as directed in the certification renewal requirements for your credential(s).
If you are seeking CEU credits for other certifications or organizations, please contact your organization for pre-approval and credit guidelines. A certificate of attendance will be provided.
---
This program has the prior approval of AAPC for up to 3 continuing education hours and approval expired 10/31/2020. Granting of prior approval in no way constitutes endorsement by AAPC of the program content or the program sponsor.