Setting high-performance standards in the front office will lead to more informed and satisfied patients, smoother workflow and a healthier revenue cycle.
5 Reasons to Attend
Learn essential responsibilities to excel in a patient-interfacing role.
Discover why quality care, overall patient satisfaction, workflow, compliance, and the bottom line are key ingredients that make or break office success.
Learn how to communicate effectively with patients and coworkers, and learn a variety of approaches for dealing with difficult personalities.
Receive instruction on skills and techniques for handling difficult and stressful situations with more confidence and clarity.
Complete a two-hour post-lecture assessment. Participants with a passing score will receive a Certificate of Competency.
Curriculum
This program covers patient satisfaction, medical ethics and etiquette communication techniques, the medical record and patient data collection, and privacy/security compliance
Explanation of the revenue cycle including how to ask for money and the importance of collecting payment at the time of service
Detailed instruction on the tasks and responsibilities of the front office
Review of medical terminology
Communication techniques and conflict resolution tactics that really work
Techniques to ease communication with angry and abusive patients
Customer service guidelines and proper implementation
How to more effectively schedule appointments
Charting and medical record documentation guidelines
Insurance basics and the importance of patient education
Importance of billing and collecting within established guidelines
Creating a culture of safety and compliance
Who Should Attend
This two-day class is appropriate for anyone responsible for patient communication, data and payment collection, and scheduling.
What to Bring
A course manual will be provided that includes sample policies and forms for better front desk management. No additional reference materials are needed.
Post-Lecture Assessment
A two-hour post-lecture assessment is included. Participants with a passing score will receive a Certificate of Competency.
Practice Management Institute
Practice Management Institute® (PMI) teaches physicians and their staff how to properly navigate complex health care issues and secure every dollar rightfully due. PMI programs focus on solutions for coding, reimbursement, compliance and practice productivity. These training programs have been hosted in leading hospitals, medical societies and colleges across the U.S. for more than 30 years.
Continuing Education Units (CEUs)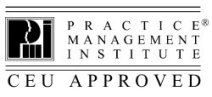 Earn 3 PMI CEUs for attendance at this program. Practice Management Institute grants CEUs for its certified professionals based on total number of instructional hours (1 CEU per hour of classroom instruction). CEUs may be applied to annual recertification requirements, as directed in the certification renewal requirements for your credential(s).
If you are seeking CEU credits for other certifications or organizations, please contact your organization for pre-approval and credit guidelines. A certificate of attendance will be provided.