The healthcare industry has one of the highest rates of work-related injuries and illnesses. Create a culture of compliance and safety for your employees and patients. Every workplace in the U.S. must abide by guidelines set forth and enforced by the Occupational Safety and Health Administration (OSHA), a government agency established under the Department of Labor to promote worker safety and health guidelines and standards. Advance preparation helps protect your office.
5 Reasons to Attend:
Review OSHA recordkeeping rule, timeframes, and list of severe injuries that employers must report to OSHA.
Receive updates on the latest changes with OSHA penalties for 2018.
Uncover the top 10 most frequent hazards found in medical and dental offices.
Review the five areas most relevant to clinical facilities including Bloodborne Pathogens, Hazard Communication, Ionizing Radiation, Exit routes and Electrical Safety.
Learn what to expect if your office receives an OSHA complaint.
Class Highlights:
Enforce safe workplace standards for employees and patients, including a no-tolerance workplace violence prevention policy, free from retaliation
NEW Ergonomic checklist to help you identify common work-related musculoskeletal disorders (MSDs), risks factors and possible solutions
Review of Bloodborne Pathogens Standard written exposure control plan
Hazard communication rules and regulations, plus program data sheets and checklists
Emergency action plan that includes requirements for providing safe and accessible emergency exits
Review risk areas, violations, citations and penalties for non-compliance
When and how to file an appeal
Who Should Attend
This basic-level class is for medical office managers charged with establishing and enforcing OSHA and hazard communication standards in the medical office. It is also ideal for new or established employees that need OSHA training. This class may fulfill annual training requirements. A course manual will be provided. No supplementary materials are needed.
Continuing Education Units (CEUs)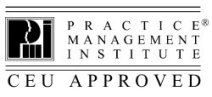 Earn 3 PMI CEUs for attendance at this program. Practice Management Institute grants CEUs for its certified professionals based on total number of instructional hours (1 CEU per hour of classroom instruction). CEUs may be applied to annual recertification requirements, as directed in the certification renewal requirements for your credential(s).
If you are seeking CEU credits for other certifications or organizations, please contact your organization for pre-approval and credit guidelines. A certificate of attendance will be provided.
Program Schedule
There are no live classes available at this time. See below for more options.
Can't find training near you?
Bring an Instructor onsite for group training. Contact info@pmiMD.com or call 800-259-5562, M-F, 8-5 Central
Subscribe to our Email List for updates and news about upcoming programs, conferences and more.
Not able to attend a live session?
Check out our self-paced version!