If your office is caught up in a decreasing reimbursement cycle, it's time for an A/R intervention! This program covers A/R as well as compliance and practice management efforts. Improve insurance data collection, eligibility verification, and patient communication and reduce payment problems that crush your bottom line.
5 Reason to attend:
Adopt a process that measures and monitors collections efforts while remaining patient-centered.
Understand your state's prompt-pay laws to avoid problems and improve success.
Implement a fail-safe process to address payment before the patient arrives, when present in the office and post visit.
Ensure that your collections are handled ethically, efficiently and legally.
Learn to detect and prevent embezzlement and fraudulent activities with end-of-month reports.
Billing staff walk a fine line between promoting patient satisfaction and enforcing accurate, timely payment policies. This program will help your office establish policies and processes that support the administration and communication of financial responsibilities.
Class Highlights:
Review each stage of the revenue cycle and the unique staff roles and processes
Develop financial policies that provide clear, consistent direction for patients and staff
Discover obstacles to meeting your goals and how to overcome
Value of timely invoicing and the impact on your billing cycle
Dissect each stage of the collections process
Overview of A/R management and collections
Steps for obtaining accurate patient information
Steps to educate patients on payment policies
Strategies to secure timely payment
Look at the true cost of statements to your operational budget
Receive instruction on the legal do's and don'ts of telephone collections
Set benchmarks and goals for collections
Learn how to read an aging report
Rules and guidelines for extending professional courtesies
Strategies for handling difficult collections situations
Who Should Attend
Anyone involved in the reimbursement process will benefit from this course. Office managers and administrators charged with training personnel and monitoring A/R are encouraged to attend.
Prerequisites
The content covered in this course assumes a basic to intermediate understanding of collections and billing principles.
What to Bring
No supplementary materials are required for this course. Bring questions and get answers on how to handle some of your toughest collections issues.
Continuing Education Units (CEUs)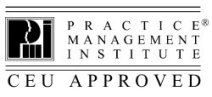 Earn 3 PMI CEUs for attendance at this program. Practice Management Institute grants CEUs for its certified professionals based on total number of instructional hours (1 CEU per hour of classroom instruction). CEUs may be applied to annual recertification requirements, as directed in the certification renewal requirements for your credential(s).
If you are seeking CEU credits for other certifications or organizations, please contact your organization for pre-approval and credit guidelines. A certificate of attendance will be provided.
Program Schedule
There are no live classes available at this time. See below for more options.
Can't find training near you?
Bring an Instructor onsite for group training. Contact info@pmiMD.com or call 800-259-5562, M-F, 8-5 Central
Subscribe to our Email List for updates and news about upcoming programs, conferences and more.
Not able to attend a live session?
Check out our self-paced version!