Rural Health Clinic Billing Guidelines

For the Medical Office
The course is designed to provide an overview of Medicare's guidelines on billing, coding and payment for services provided in a Rural Health Clinic (RHC) setting.
Target Audience
Physicians
Clinical Nurse Specialists
Nurse Practitioners
Physician Assistants
Practice Administrators
Billers and Coders
Quality Assurance Staff
Learning Objectives
Participants will learn:
What is a Rural Health Clinic (RHC)?
RHC Designation and Conditions of Certification Requirements
Define RHC Encounter Types and Qualifying Encounters
Medicare Coverage for Opioid Use Disorder Treatment Services
Provider-Based vs. Independent RHC Billing
Core Principals of Reporting RHC Revenue Codes
Billing for RHC and Non-RHC Services
RHC Claims Processing – Billing for Medicare Part A versus Medicare Part B Services
Claim Form Completion and Submission Requirements
Identify Modifier Use for RHC Billing
Medicare Coding, Billing and Reimbursement for Opioid Treatment Program Services
RHC Billing Examples
Common RHC Claim Errors
An Overview of RHC Cost Reporting
RHC Participation in Medicare Shared Savings Programs
Continuing Education Units (CEUs)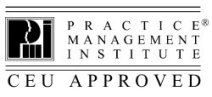 Earn 6 PMI CEUs for attendance at this program. Practice Management Institute grants CEUs for its certified professionals based on total number of instructional hours (1 CEU per hour of classroom instruction). CEUs may be applied to annual recertification requirements, as directed in the certification renewal requirements for your credential(s).
If you are seeking CEU credits for other certifications or organizations, please contact your organization for pre-approval and credit guidelines. A certificate of attendance will be provided.
Program Schedule
There are no live classes available at this time. See below for more options.
Can't find training near you?
Bring an Instructor onsite for group training. Contact info@pmiMD.com or call 800-259-5562, M-F, 8-5 Central
Subscribe to our Email List for updates and news about upcoming programs, conferences and more.