Transform the Front Desk Staff - Version 2.0
Transform routine patient relations into outstanding customer service
Newly updated to include:
Role-playing to address difficult personalities
Increased emphasis on first impressions
Importance of patient satisfaction surveys
Staff armed with problem-solving skills, awareness of privacy and security, and overall front desk best practices will be more confident.
Careful frontline communications improve the office workflow and the overall patient experience.
Employee professionalism, attitude, awareness, and accountability are important to patients and their families.
Accurate data collection in initial encounters correlates with improved reimbursement.
High performing medical front offices gather accurate information, make appropriate scheduling decisions, proactively address challenging patient behavior and protect patient privacy.
Complete an individual skill-assessment inventory
Address difficult personalities through communication role-play exercises
Explore effective appointment scheduling techniques
Learn how to improve patient satisfaction through effective communication
Review sample patient education and practice policies
Introduction to the medical record
Review good insurance verification, billing and collections practices
Learn strategies to secure co-pays at time of service
Review patient confidentiality guidelines and HIPAA compliance
Guided discussion on creating a positive first and last impression
Improve listening skills and time management
Understand and distinguish medical ethics and medical etiquette
Enhance patient collections efforts with sample scripts
This class is appropriate for anyone responsible for patient communication, data collection, and scheduling. Beginners and seasoned staff will return to the office with practical tips and new ideas for improving performance.
No prerequisites are required for this class.
A course manual is provided. No additional reference books are required for this training session.
Continuing Education Units (CEUs)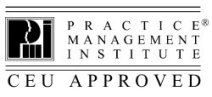 Earn 3 PMI CEUs for attendance at this program. Practice Management Institute grants CEUs for its certified professionals based on total number of instructional hours (1 CEU per hour of classroom instruction). CEUs may be applied to annual recertification requirements, as directed in the certification renewal requirements for your credential(s).
If you are seeking CEU credits for other certifications or organizations, please contact your organization for pre-approval and credit guidelines. A certificate of attendance will be provided.
Program Schedule
There are no live classes available at this time. See below for more options.
Can't find training near you?
Bring an Instructor onsite for group training. Contact info@pmiMD.com or call 800-259-5562, M-F, 8-5 Central
Subscribe to our Email List for updates and news about upcoming programs, conferences and more.
Not able to attend a live session?
Check out our self-paced version!