Using Modifiers to Improve Claim Accuracy
Instructor:
Misty Nelson, LPN, CMC, CMIS, CMOM, CMCO
Schedule:
Two instructor-led, 90-minute live online training sessions: May 14 and 21, 12 noon to 1:30 p.m. Central (10 a.m. Pacific, 1 p.m. Eastern).
NOTE: Live session attendance is optional. See the materials section below for more information. Sessions are recorded and available in PMI's Online Training Center 2-4 days after the last recording date. Registrants receive access to the session recordings and digital course manual for 6 months.
Online Course Fee:
$199 per person*
Target Audience:
This training is for anyone working with a medical office team in an outpatient setting. Managers, clinicians, and office staff are encouraged to attend.
Materials:
Registration includes a digital course manual
CEUs:
PMI certified professionals earn 3 CEUs, emailed with certificate of completion
*This Online Course is not included as part of the Total Access webinar subscription package.
Don't lose revenue because of modifier misuse, non-use or just to bypass CCI edits! This class will explain modifiers and when it is appropriate to use a modifier to obtain proper payment. Coders, billers, practice managers, charge entry and insurance specialists that deal with appeals will benefit from this course.
Class Highlights:
Tips for correct use of -X(EPSU) modifiers
List and explanation of Levels I and II modifiers
E&M modifiers
HCPCS modifiers
Surgical Modifiers
Guidelines and usage tips
Negative impacts of modifiers
Sharpen knowledge of CPT® guidelines related to modifier usage
Why pricing modifiers are considered part of the seven-digit procedure code by CMS
Use of modifiers when services are in the global period
The difference between modifiers 25 & 59 and modifiers 52 & 53
Inclusion of medical necessity in documentation to support the use of modifiers
Audit risks and identification of abuse of modifiers as reported by CMS
Continuing Education Units (CEUs)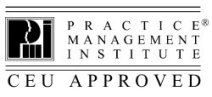 Earn 3 PMI CEUs for attendance at this program. Practice Management Institute grants CEUs for its certified professionals based on total number of instructional hours (1 CEU per hour of classroom instruction). CEUs may be applied to annual recertification requirements, as directed in the certification renewal requirements for your credential(s).
If you are seeking CEU credits for other certifications or organizations, please contact your organization for pre-approval and credit guidelines. A certificate of attendance will be provided.

About the Presenter
Misty has more than 12 years of healthcare experience. Her nursing background combined with her management experience, industry knowledge and natural teaching ability are the perfect fit for the classroom.
She has worked as a Practice Manager for two health centers in North Carolina where her responsibilities included management of clinical and support staff, as well as day to day operations of a FQHC. Misty was responsible for maintaining HIPAA and OSHA compliance and wrote an emergency action plan. She also handled the practice budget and productivity, and had a hand in the scheduling of residents and faculty. With both clinical and practice management knowledge, she has been able to understand and participate in quality assurance programs and nursing care plans.
Misty graduated Magna Cum Laude from ECPI College of Technology Medical Careers Institute in Greenville, SC.