ICD-10-CM Coding for the Medical Practice
Curb error rates and denials to improve your practice's bottom line. This course is designed for clinicians and coders actively involved in diagnostic coding in a medical practice. This fast-paced workshop provides instruction and hands-on exercises in the 21 chapters of ICD-10-CM.
5 Reasons to Attend
Instructional manual and access to faculty to address specific questions
In-class exercises will sharpen diagnostic coding accuracy
Expand your knowledge of the critical role that clinical documentation plays in correct coding
Curb error rates and denials and improve your bottom line
Protect the practice from audits that could result in big fines
Reliance on EMRs for proper code selection is dangerous! Failure to code to the highest degree of specificity negatively impacts reimbursement as well as utilization statistics.

Coders must know how to code to the highest degree of specificity and cross-reference to verify accuracy. It has never been more important to have a strong foundation in diagnostic coding principles and guidelines.

Program Highlights
Learn the ICD-10-CM conventions with detailed examples
Explanation of current general and chapter specific coding guidelines in ICD-10
Understanding the coding system's format and structure
Usage of the placeholder character "X" and 7th character extensions
Working with Excludes1 and Excludes2 notes
Know the categories of Z code
Classification and proper coding of diseases and injuries
Clarification of signs, symptoms and ill-defined conditions
How to code for sequela (late effects)
Correct sequencing of codes
Coding for orthopedics, pregnancy/childbirth/puerperium, infectious disease, neoplasms, diabetes and more
Hands-on exercises to improve proficiency within a variety of chapters/specialties
Who Should Attend
This course is designed for coding and billing professionals, providers, office managers, consultants, and anyone seeking a better understanding of outpatient diagnostic coding.
Prerequisites
This is a basic-level course. Content assumes some knowledge of outpatient coding and reimbursement.
What to Bring
Participants must bring an ICD-10-CM Code Set manual to this class.
Practice Management Institute® (PMI) teaches physicians and their staffs how to properly navigate complex healthcare issues and secure every dollar rightfully due. PMI programs focus on solutions for coding, reimbursement, compliance and practice productivity. These training programs have been hosted in leading hospitals, medical societies, and colleges across the U.S. for more than 30 years.
Continuing Education Units (CEUs)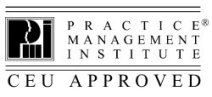 Earn 6 PMI CEUs for attendance at this program. Practice Management Institute grants CEUs for its certified professionals based on total number of instructional hours (1 CEU per hour of classroom instruction). CEUs may be applied to annual recertification requirements, as directed in the certification renewal requirements for your credential(s).
If you are seeking CEU credits for other certifications or organizations, please contact your organization for pre-approval and credit guidelines. A certificate of attendance will be provided.