Learn about the new changes to Medicare and compliance guidelines and how they may impact revenue in 2023. This class will help you make informed decisions and guide your practice in a positive direction.
Course Highlights:
Medicare telehealth services will undergo process transitions at the end of the PHE. Reweighting of MEI cost shares may change payments among PFS services. Review changes to split or shared E/M visits and new HCPCS codes and valuation for chronic pain management. The expiration of the 3% PFS increase means providers can expect decreased reimbursement in 2023.
More E/M changes in 2023 include new descriptor times, revised interpretive guidelines for levels of MDM, and choice of MDM or Time to select code level. A medically appropriate history and exam would replace history and exam to determine code level. Review revisions to the coding and documentation framework.
Review new 2023 CPT code descriptors like new times, revised interpretive guidelines for the level of MDM, choice of MDM or time to select code level instead be a requirement for a medically appropriate history and exam.
Continuing Education Units (CEUs)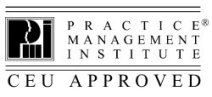 Earn 3 PMI CEUs for attendance at this program. Practice Management Institute grants CEUs for its certified professionals based on total number of instructional hours (1 CEU per hour of classroom instruction). CEUs may be applied to annual recertification requirements, as directed in the certification renewal requirements for your credential(s).
If you are seeking CEU credits for other certifications or organizations, please contact your organization for pre-approval and credit guidelines. A certificate of attendance will be provided.
---

%>

'Medicare & Compliance Changes', sponsored by Practice Management Institute, has been approved for 3.0 CEU(s). The approval is valid from 12/2/2022 to 12/31/2023.
Program Schedule
There are no live classes available at this time. See below for more options.
Not able to attend a live session?
Check out our self-paced version!