On November 2nd CMS released a final rule that includes updates on policy changes for Medicare payments under the Physician Fee Schedule (PFS), and other Medicare Part B issues, effective on or after January 1, 2022. Attend this session to gain the facts and learn all you need to know to keep your practice on track and be in compliance on January 1.
The Medicare Physician Fee Schedule rule for 2022 includes another decrease in the conversion factor. The past sequester and the PAYGO rule will also have an impact. In addition, we are seeing the expiration of the temporary 3.75% boost provided by the Consolidation Appropriations act of 2021 (CAA). Providers could face significant cuts in payments next year unless Congress intervenes to supplement the budget. Nearly all medical practices that bill Medicare should expect to feel the squeeze next year.
Get insight into the fate of telehealth services after the end of the public health emergency. What telephone codes will CMS continue to reimburse? They have retained Medicare Category 3 telehealth services, but how long will they pay for these services that appear on the list of temporary services? CMS intends for the home of a beneficiary to permanently qualify as an originating site and to lift geographic restrictions for mental health telehealth services, and even to allow the use of audio-only technology for certain mental telehealth services. What are the requirements for reimbursements for such services?
CMS plans to further delay penalties for the appropriate use criteria program for advanced diagnostic imaging services and to develop an accurate, stable payment rate for the administration of preventative vaccines under Medicare Part B. For the QPP, CMS will transition to digital quality measurement and improve the collection of social determinants of health data. Expect additions to the MIPS eligible clinicians list for 2022, a delay to delay optional MVP reporting, and continuation of the complex patient bonus. Significant changes are proposed for shared services and critical care including the reporting requirements for code 99291.
Take a guided tour of these and other changes for 2022 that will directly impact provider reimbursement and/or healthcare compliance in the new year.
Course Highlights:
Direct payments to physician assistants
Critical care service billing (split/shared visits)
Time rules for therapy services provided by PT and OT assistants
Coverage for pulmonary rehab for COVID impacted patients
Changes to teaching physician rules and NCDs
RHC and FQHC mental health visits
OUD treatment - new add on code; medications and bundled services
Potential expansion to the types of providers whose Medicare enrollment can be denied or revoked
Physician Self-Referral and Open Payments Program updates
Clarification on the e-prescribing compliance date (Part D)
QPP- Details on changes to quality measures and threshold amounts
Surprise Billing Provisions in the Consolidated Appropriations Act (eff Jan 2022)
Recent additions to the OIG Workplan
OCR settlements & HIPAA Right of Access Initiative
OSHA emergency temporary standard
Continuing Education Units (CEUs)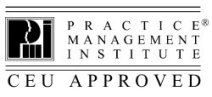 Earn 3 PMI CEUs for attendance at this program. Practice Management Institute grants CEUs for its certified professionals based on total number of instructional hours (1 CEU per hour of classroom instruction). CEUs may be applied to annual recertification requirements, as directed in the certification renewal requirements for your credential(s).
If you are seeking CEU credits for other certifications or organizations, please contact your organization for pre-approval and credit guidelines. A certificate of attendance will be provided.