Medicare & Compliance Changes
Updated to reflect the final rule released November 1, 2018
Attend this program to learn the latest compliance updates and the changes to payment policies, rates, and quality-related provisions for physician services furnished under the Medicare Part B Physician Fee Schedule.
Gain the facts on the most current documentation requirements for E/M visits and hear good news about lower drug costs, MIPS meaningful measures reporting, and EHR interoperability. Review the latest additions to the OIG Work Plan affecting healthcare providers.
MIPS will have changes to general performance category weights, increases to cost performance weight and to performance thresholds. Other 2019 revisions will leverage technology and advance virtual care to reduce costs and administrative burdens for providers.
Prepare for new non-face-to-face codes for Telemedicine. CMS will begin to cover and remote evaluations of pre-recorded patient information and virtual check-ins in 2019.
Class Highlights:
This course will provide important physician reporting and reimbursement updates to the Physician Fee Schedule (PFS) and the Quality Payment Program (QPP) including changes to Merit-based Incentive Payment Systems (MIPS), and Alternative Payment Models (APMs).
Learn what additional types of providers will have to participate in MIPS in the New Year.
Exemptions to QPP will be expanded to include a third low volume threshold with the ability for clinicians to opt-in to MIPS if they do not meet all three exemptions
CMS implements wholesale acquisition cost-based payment for some Part B drugs to lower costs and improve quality of care.
2019 is the first in a 4-year phase in of new supply and equipment prices not updated since 2004-2005.
Shifts in Practice Expense RVUs for some codes will be inevitable.
CMS will relax documentation standards for Evaluation and Management (E/M) services in 2019.
Review the latest additions to the OIG Work plan affecting healthcare providers, including post-op services in the global period, billing for critical care E/M services, and more.
This is an intermediate-level course relevant for medical office professionals, providers, office managers, consultants, and compliance officers. The content is best suited for those with knowledge of outpatient coding and reimbursement. A course manual will be provided. No other outside materials are required.
Continuing Education Units (CEUs)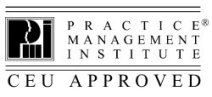 Earn 3 PMI CEUs for attendance at this program. Practice Management Institute grants CEUs for its certified professionals based on total number of instructional hours (1 CEU per hour of classroom instruction). CEUs may be applied to annual recertification requirements, as directed in the certification renewal requirements for your credential(s).
If you are seeking CEU credits for other certifications or organizations, please contact your organization for pre-approval and credit guidelines. A certificate of attendance will be provided.